Voting begins in German election with race open
(Reuters)
Updated: 2005-09-18 15:29
BERLIN (Reuters) - Voting began in Germany's closely fought election on Sunday with millions of undecided voters holding the key to a result that will have major implications for economic reform in Europe.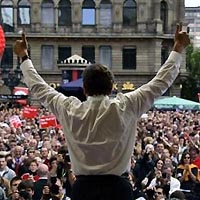 German Chancellor Gerhard Schroeder waves to the crowd after his speech at an election campaign rally in Frankfurt, central Germany September 17, 2005. [Reuters]

Christian Democrat challenger Angela Merkel is expected to emerge as Germany's first woman chancellor, displacing Gerhard Schroeder who has led Germany for the past seven years at the head of a center-left government of Social Democrats and Greens.

But with unprecedented numbers of voters apparently undecided on the eve of the vote, it was unclear whether she could muster enough support to form the center-right coalition government she says is needed to push through deep reforms of Germany's ailing economy.

If she cannot, she will probably be forced to share power with Schroeder's Social Democrats (SPD) in a "grand coalition" that financial markets fear would produce gridlock and stall the reforms that Schroeder himself has already begun.

Polls opened at 8 a.m. (0600 GMT). Voting closes and the first exit polls are announced at 6 p.m. (1600 GMT) and a provisional result is expected to be announced in the early hours of Monday morning.

Weather forecasters are predicting fine autumn weather across most of the country.

The final opinion polls published on Friday gave Merkel's center-right coalition with the liberal Free Democrats (FDP) a slim lead in a race it once dominated.





| | |
| --- | --- |
| | |
| Clinton Global Initiative Summit | |

| | |
| --- | --- |
| | |
| Schwarzenegger seeks re-election in 2006 | |

| | |
| --- | --- |
| | |
| Suicide bombing kills at least 152 in Iraq | |
Today's Top News
Top World News

Six-nation nuclear talks extended for one more day




President Hu concludes trip in Canada




China sets up new oil group to meet demands




Summit endorses watered-down UN reform




Mainland population below 1.37 billion by 2010




Music giants sue Baidu over music downloads