Six-nation nuclear talks extended for one more day
(AP)
Updated: 2005-09-18 15:06
BEIJING - North Korean nuclear talks were extended for at least one more day through Monday as envoys tried to agree on a compromise proposal that would let Pyongyang keep its civilian nuclear power program after it disarms. But host China said the current round of negotiations were close to ending.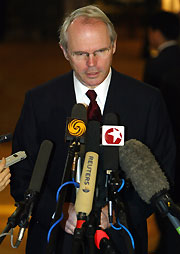 Christopher Hill, U.S. Assistant Secretary of State for East Asian and Pacific Affairs and top U.S. negotiator for the six-party talks, speaks to journalists before continuation of talks in Beijing September 18, 2005. [Reuters]

The heads of all six parties to the talks met twice Sunday morning and exchanged opinions on the Chinese compromise proposal, the official Xinhua News Agency reported, citing Chinese Foreign Ministry spokesman Liu Jianchao.

"The talks are drawing to an end," it said, without giving any further explanation. But the agency reported the six parties would meet again on Monday. It was not immediately clear whether Monday would be the last day of this round of talks.

Officials attending the talks were not immediately available for comment.

State-run China Central Television's CCTV 9 network reported that the U.S. and North Korea remained at odds.

"We'll see where we are at the end of the day," U.S. Assistant Secretary of State Christopher Hill said earlier on Sunday as he left his hotel. Hill said he would stay in Beijing another day.

The talks in Beijing include China, Japan, Russia, the United States and the two Koreas.





| | |
| --- | --- |
| | |
| Hu concludes North American trip | |

| | |
| --- | --- |
| | |
| Sculpture exhibition to mark the war victory | |

| | |
| --- | --- |
| | |
| Children of migrant workers receive education in Guiyang | |
Today's Top News
Top China News

Six-nation nuclear talks extended for one more day




President Hu concludes trip in Canada




China sets up new oil group to meet demands




Summit endorses watered-down UN reform




Mainland population below 1.37 billion by 2010




Music giants sue Baidu over music downloads