Japan renews call for UN Security Council seat
(AFP)
Updated: 2005-09-16 09:16
Japanese Prime Minister Junichiro Koizumi made a renewed call for Japan to be admitted to the elite club of nations that hold a permanent seat on the UN Security Council.
"The world has changed dramatically over the last 60 years. Asia and Africa, once under the shackles of colonialism, are now significant players in our global community," Koizumi told other leaders attending the United Nations summit.
"For the last 60 years, Japan has determinedly pursued a course of development as a peace-loving nation, making a unique and significant contribution to the peace and prosperity of the world," he said.
"The composition of the Security Council must reflect these fundamental changes.
"Japan is convinced that Security Council reform is a just cause for the international community -- as is the deletion of the long-obsolete 'enemy state' clauses from the UN Charter," the Japanese prime minister said.
Japan is "ready to play a larger role as a permanent member" in a reformed council, he added.
Japan has been pressing for years for membership of the council. The United States has said it would support Japanese membership of an enlarged council, but the US and China have opposed an initiative by Japan, Germany, Brazil and India to add extra members.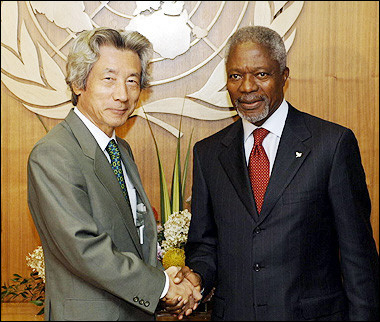 Japanese Prime Minister Junichiro koizumi (L) shakes hands with UN Secretary General Kofi Annan at the United Nations in New York on the sidelines of the 60th session of the United Nations General Assembly. [AFP]

But Koizumi said "there is a real prospect that action will be taken" on changing the council.

"Building on this momentum, we must pursue an early decision," he said, urging UN members to unite to press for changes.

Japan was one of the vanquished nations of World War II, but now has the world's second largest economy and is the second-biggest contributor to the UN budget.

Seeking a bigger global profile, Koizumi has sent about 550 troops to Iraq to provide humanitarian assistance.

A UN blueprint to restructure the embattled world body calls on the assembly to review progress on a planned expansion of the 15-member council, including five new permanent members, by the end of the year.

Fresh from an election triumph, Koizumi made a flying trip to New York to make his speech seeking Japanese entry to the council.

It came a day after Foreign Minister Nobutaka Machimura made an address also calling for reform to "reflect today's reality."

Japan, Brazil, Germany and India -- the so-called Group of Four -- submitted a plan to boost the council's membership to 25, with six new permanent seats and four non-permanent seats.

But the plan died this week, opposed by permanent council members China and the United States and having failed to garner enough support from Africa.

Russia, Britain and France are the other permanent council members with the right to veto any resolution.




| | |
| --- | --- |
| | |
| Suicide bombing kills at least 152 in Iraq | |

| | |
| --- | --- |
| | |
| Afghanistan's President calls for increased support | |

| | |
| --- | --- |
| | |
| Hurricane Ophelia | |
Today's Top News
Top World News

Foreign investors able to buy large SOEs




Hu calls for a harmonious world at summit




Shanghai-Taipei direct flight proposed




US and North Korea clash at nuclear talks




Province closes all coal mines, permanently




China not planning more yuan revaluations