US and North Korea clash at nuclear talks
(Reuters)
Updated: 2005-09-16 07:30
BEIJING - The United States and North Korea clashed over a Pyongyang demand for light-water nuclear reactors for power generation at six-nation talks designed to end the country's atomic arms programs. Reuters reported.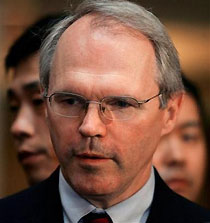 Christopher Hill, U.S. Assistant Secretary of State for East Asian and Pacific Affairs and top U.S. negotiator for the six-party talks, listens to a question from a journalist after talks in Beijing September 15, 2005. [Reuters]

On the eve of a fourth day of talks on Friday, Washington said the North's stand was holding up an end to a three-year crisis that would allow aid and security guarantees for the impoverished state if it abandoned all nuclear programs.

"We are at a bit of a stand-off at this point. We have to see how this plays out," chief U.S. negotiator Christopher Hill told reporters in Beijing where North and South Korea, the United States, Japan, Russia and China are meeting.

"I want to stress that we all want to resolve this through a diplomatic way. (North Korea), not for the first time, has chosen to isolate itself," said Hill.

The North stood firm on its demand for light-water reactors, which generate electricity but are unsuitable for making nuclear arms. Its stance represented a hardening of position.

"The issue of a light-water reactor is one that's related to the political commitment by the United States to clear its hostility against us and to peacefully co-exist," a spokesman for the North Korean delegation told reporters.

"We are demanding something specific, not an empty right to peaceful nuclear activities. All the countries have expressed understanding of our position, but only the United States is adamantly against it."





| | |
| --- | --- |
| | |
| Suicide bombing kills at least 152 in Iraq | |

| | |
| --- | --- |
| | |
| Afghanistan's President calls for increased support | |

| | |
| --- | --- |
| | |
| Hurricane Ophelia | |
Today's Top News
Top World News

Foreign investors able to buy large SOEs




Hu calls for a harmonious world at summit




Shanghai-Taipei direct flight proposed




US and North Korea clash at nuclear talks




Province closes all coal mines, permanently




China not planning more yuan revaluations