U.S. refuses N. Korean nuke reactor demand
(AP)
Updated: 2005-09-15 18:25
The U.S. envoy on North Korea's nuclear program said Thursday he hoped to move beyond an impasse at arms talks after Washington rejected the North's demand for a nuclear reactor in exchange for abandoning its atomic bomb program.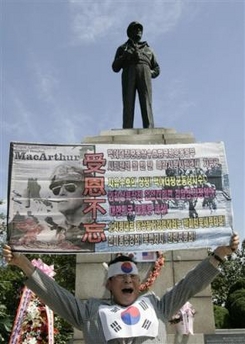 A South Korean protester shouts a pro-U.S. slogan in front of a statue of the late Gen. Douglas MacArthur during a ceremony to commemorate the 55th anniversary of the Inchon landing operation at Freedom Park in Incheon, west of Seoul, Thursday, Sept. 15, 2005. Half a century after U.S. Gen. Douglas MacArthur landed behind North Korean lines and led U.N. forces in a counterattack that turned the tide of the Korean War, South Koreans still argue over whether his memory should be revered or banished from the peninsula. The Korean letters reads ' Defense a statue of the U.S. Gen. Douglas MacArthur and Anti-North Korea's Nuclear.' [AP]
U.S. Assistant Secretary of State Christopher Hill said the sides "did not make a lot of progress" during a one-on-one meeting with the North Korean delegation Wednesday, his first since the six-nation talks on the communist nation's nuclear program resumed this week.
"Yesterday was a long day," Hill said Thursday as he left his hotel. "Let's see if we can do a little better today."
Hill met later with the chief North Korean delegate, U.S. and South Korean officials said. The U.S. side had no immediate comment on the outcome of the meeting.
However, a South Korean official, speaking on condition of anonymity, said the two sides appeared not to have bridged their differences when they emerged grim-faced after the 90-minute session.
The talks reconvened Tuesday after a five-week recess, and also include China, Japan, Russia and South Korea. The last session failed to yield an agreement after 13 days of meetings, and no end date has been set for the current negotiations.
All six delegations met later Thursday, the Chinese press center for the talks said, but it wasn't known how long the session would last.
The current offer to North Korea would provide economic aid and security guarantees from Washington along with free electricity from South Korea in exchange for dismantling its nuclear weapons program. But North Korea has also asked for a light-water nuclear reactor to generate electricity, a type more difficult to divert to weapons use.
"The light-water reactor for us is a nonstarter," Hill said Thursday. "We have a pretty good deal on the table."
Hill said the North Koreans continued to insist on their right to nuclear energy instead of discussing the proposed package.
South Korea's top envoy said the conflict wasn't an insurmountable barrier to an agreement if Washington and Pyongyang show flexibility.
"We know very well what North Korea wants, and we have opened the window of opportunity for North Korea to have a light-water reactor in the future," said Deputy Foreign Minister Song Min-soon.
Song said it was not necessary for that promise to be mentioned explicitly in the statement the six sides are seeking agreement on now.
China also called for the sides to seek compromise, but held off from going as far as saying it backed the North's stand.
North Korean diplomats haven't commented at the talks. But the North's chief negotiator, Kim Kye Gwan, reportedly said before they started that his country had a right to a peaceful nuclear program.
None of the other countries at the talks has stepped forward with an offer to foot the estimated $2 billion to $3 billion cost for building a reactor, Hill said, noting it could take up to a decade to be completed.
The South Korean offer to send electricity to the North could begin delivering power in a few years. The North suffers chronic energy shortages that have further hampered its already struggling economy.
Hill noted Wednesday that North Korea has pursued a nuclear program for 25 years and used it solely to make weapons-grade plutonium for atomic bombs ¡ª not for generating electricity.
"Not a single light bulb has been turned on as a result of the nuclear reactor in North Korea," he said, referring to the country's main atomic facility in Yongbyon.
A Washington-based think tank released a satellite photo Wednesday showing that the reactor at Yongbyon has apparently been restarted, noting a steam plume was seen Sunday rising from its cooling tower. The reactor was shut down earlier this year and the North said its fuel rods were removed, a move that would allow it to harvest more weapons-grade plutonium.
The Institute for Science and International Security also released a satellite photo showing activity at the North's 50-megawatt nuclear reactor under construction, including a new road surface and possibly a crane, but said it didn't appear there was large-scale work at the site.

| | |
| --- | --- |
| | |
| Suicide bombing kills at least 152 in Iraq | |

| | |
| --- | --- |
| | |
| Afghanistan's President calls for increased support | |

| | |
| --- | --- |
| | |
| Hurricane Ophelia | |
Today's Top News
Top World News

Hu: China to provide US$10b for poor countries




US President Bush to visit China in November




PFP head James Soong in Shanghai for forum




China oil firm buys EnCana assets in Ecuador




At least 160 die in Iraq al-Qaida bombings




Four bombings kill at least 31 in Iraq