al-Qaida said responsible for car blast
(AP)
Updated: 2005-09-14 19:31
A suicide car bomber struck as day laborers gathered to find work in a Shiite neighborhood in north Baghdad, killing at least 88 people and wounding 227 in the deadliest of a series of attacks in the Iraqi capital Wednesday. Al-Qaida in Iraq reportedly claimed responsibility.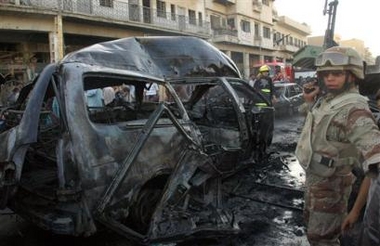 Iraqi soldiers secure the site following an explosion in Baghdad, Wednesday, Sept. 14, 2005. At least 73 people were killed and 162 wounded early Wednesday when a suicide bomber detonated his vehicle near a group of construction workers in north Baghdad, police said. [AP]
Iraqi lawmakers, meanwhile, agreed on last-minute revisions to the contested draft constitution in a bid to appease the disgruntled Sunni minority that has formed the core support for the country's virulent insurgency.
In the deadliest of at least six separate bombings in the capital, twisted hulks of vehicles were strewn throughout Oruba Square in the northern Kazimiyah district after a suicide attacker drove a small van into an area where day laborers had gathered in search of work.
Iraq's Health Ministry said that 88 people had died and 227 were wounded, making it the deadliest attack in Iraq since Feb. 28, when a suicide car bomber targeting Shiite police and National Guard recruits in Hillah killed 125 people.
The Arab-language news channel Al-Jazeera reported that the terror group Al-Qaida in Iraq claimed responsibility.
Politicians immediately denounced the bombing. Husein al-Shahristani, deputy speaker of the National Assembly called the killings "barbaric and gruesome."
Gunmen wearing military uniforms, meanwhile, surrounded a village north of Baghdad early Wednesday and killed 17 men, police said.
Police Lt. Waleed al-Hayali, in Taji, 10 miles north of Baghdad, said the gunmen detained the victims after searching the village. They were handcuffed, blindfolded and shot. The dead included one policeman and others who worked as drivers and construction workers for the U.S. military, said al-Hayali.
A car bomb hit an American military convoy in eastern Baghdad, and police Capt. Maher Hamad said two U.S. soldiers were wounded, although that was not confirmed by the U.S. military.
Another car bomb exploded alongside an Iraqi National Guard convoy in the northern Baghdad district of Shula, killing at least two people, authorities said.
In central Baghdad, just a few hundred yards from the Rashid Hotel that houses diplomats and foreign contractors, a suicide car bomber attacked a U.S. convoy, police said. Fourteen Iraqi police officers were injured; it was not clear if there were any U.S. casualties.
Sunni militants have mounted a series of attacks on Shiites in an apparent effort to provoke a sectarian conflict. The Kazimiyah district that saw Wednesday's deadliest attack is the same area where about 950 people were killed Sept. 1 during a bridge stampede as tens of thousands of Shiite pilgrims were headed to a nearby shrines.
With the Oct. 15 referendum on the draft constitution looming, Iraqi lawmakers announced that the document had been finalized and would be sent to the United Nations for printing and distribution.
Hussein al-Shahristani, the deputy speaker of the National Assembly and a leading Shiite lawmaker, said the latest changes included an apparent bow to demands from the Arab League that the country be described as a founding member of the 22-member pan-Arab body and that it was "committed to its charter."
But that amended clause falls short of demands by Sunnis, who wanted the country's Arab identity clearly spelled out while mentions of federalism be struck from the document. They argue such language could ultimately lead to the disintegration of the multiethnic nation.
Still, the changes, which included clarifying that water resource management was the federal government's responsibility and that the prime minister would have two deputies in the Cabinet, are significant after weeks of discussions on the draft.
Hopes that a relative lull in violence would continue were shattered with the latest attacks.
At Baghdad's al-Kazimiyah Hospital, dozens of wounded men lay on stretchers and gurneys, their bandages and clothes soaked in blood. One older man in a traditional Arab gown and checkered head scarf sat in a plastic chair, his blood-soaked underwear exposed with a trail of dried blood snaking down his legs.
Dr. Qays Abdel-Wahab al-Bustani told Associated Press Television News they received 75 wounded people and 47 others who were killed in the explosion. Al-Bustani said the wounded were in stable condition.
The attacks came as U.S. and Iraqi forces continued their offensive on insurgents in northern Iraq, striking hard at what officials have said are militants sneaking across the border from Syria.
On Tuesday, they launched an attack on the Euphrates River stronghold of Haditha. That attack came after some 200 militants were killed in Tal Afar in several days of fighting. Residents also reported American air strikes in the same region near Qaim, also near the Syrian border.
The offensive is apparently part of a campaign described on Monday by Iraq's defense minister, who said that Iraqi and U.S. forces would work their way along the insurgent-plagued town along the Euphrates River valley in the north, in a bid to stamp out the militants believed to be sneaking across the nearby border with Syria.