Bush takes responsibility for blunders
(AP)
Updated: 2005-09-14 06:20
WASHINGTON - President Bush for the first time took responsibility Tuesday for federal government mistakes in dealing with Hurricane Katrina and suggested the calamity raised broader questions about the government's ability to handle both natural disasters and terror attacks. AP reported.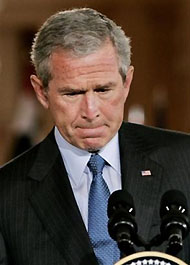 President Bush reacts during a joint press availiblity with Iraqi President Jalal Talabani, Tuesday, Sept. 13, 2005, in the East Room at the White House in Washington. [AP]

"Katrina exposed serious problems in our response capability at all levels of government," Bush said at a joint White House news conference with Iraqi President Jalal Talabani.

"And to the extent that the federal government didn't fully do its job right, I take responsibility. I want to know what went right and what went wrong," said Bush.

Facing sharp criticism and the lowest approval ratings of his presidency, Bush scheduled a speech to the nation from Louisiana for Thursday evening. It will be his fourth trip to the devastated Gulf Coast since the storm struck two weeks ago.

It was the closest Bush has come to publicly faulting any federal officials involved in the hurricane response, which has been widely criticized as disjointed and slow. Some federal officials have sought to blame state and local officials for being unprepared to cope with the disaster.

Sen. Mary Landrieu (news, bio, voting record), D-La., welcomed Bush's conciliatory remarks. "Accountability at every level is critical, and leadership begins at the top," she said.





| | |
| --- | --- |
| | |
| Afghanistan's President calls for increased support | |

| | |
| --- | --- |
| | |
| Hurricane Ophelia | |

| | |
| --- | --- |
| | |
| US Chief Justice nominee John Roberts sworn in | |
Today's Top News
Top World News

President Hu: China to work with US on trade gap




Oil prices too high to stock strategic reserve




North Korea digs in as nuclear talks resume




China may ease limits on foreign banks




Bush takes responsibility for blunders




Bidding solution to textile quota conundrum