US could withdraw 50,000 troops by year end
(Reuters)
Updated: 2005-09-13 16:48
The United States could withdraw as many as 50,000 troops from Iraq by the end of the year because there are enough Iraqi forces ready to begin taking control of parts of the country, Iraqi President Jalal Talabani told the Washington Post, Reuters reported.
In an interview with the newspaper that was published on Tuesday, Talabani said he would discuss reductions in U.S. forces during a private meeting with President George W. Bush and said he thought the United States could pull some troops out immediately.
"We think that America has the full right to move some forces from Iraq to their country because I think we can replace them (with) our forces," Talabani said. "In my opinion, at least from 40,000 to 50,000 American troops can be (withdrawn) by the end of this year."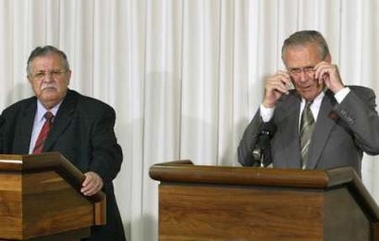 U.S. Secretary of Defense Donald Rumsfeld (R) and Iraqi President Jalal Talabani speak at a joint news conference after their meeting at the Pentagon in Washington, September 9, 2005. [Reuters]

After the newspaper contacted the White House and Pentagon for comment, a senior adviser to Talabani called The Post to say the Iraqi president did not intend to suggest a specific timeline for withdrawal.

"He is afraid . . . this might put the notion of a timetable on this thing," the adviser told the newspaper. "The exact figure of what would be required will undeniably depend on the level of insurgency (and) the level of Iraqi capability."

Bush has refused to set a timetable for reducing the number of U.S. troops in Iraq.

White House adviser Dan Bartlett told the paper, "We share the same view: as Iraqis build up their capabilities to defend their country, fewer U.S. troops will be needed to complete our mission. The president will continue to work with Iraqi leaders and base his military decisions on the advice of commanders in the field and the secretary of defense."

The United States has about 140,000 troops in Iraq and is training Iraqi forces to take over, but recent U.S. military assessments question the capability of Iraqi forces. Before the October 15 constitutional referendum, the Pentagon plans to increase the number of U.S. troops in Iraq by about 1,500 to 2,000.

On Friday, Talabani warned against an early withdrawal of U.S. forces, but said troops can be reduced gradually over the next two years.




| | |
| --- | --- |
| | |
| Hurricane Ophelia | |

| | |
| --- | --- |
| | |
| US Chief Justice nominee John Roberts sworn in | |

| | |
| --- | --- |
| | |
| Russian delegation arrives for nuclear talks | |
Today's Top News
Top World News

Oil prices too high to stock strategic reserve




US to blame for China trade friction: Amcham




Fresh nuke talks bid to end nuclear impasse




Hu signs trade pacts with Mexico's Fox




Many IMF directors want gradual yuan moves




Human tests prove AIDS vaccine safe