US to blame for China trade friction: Amcham
(Reuters/AFP)
Updated: 2005-09-13 16:38
BEIJING - Trade tensions between the United States and China are due partly to the ineffectiveness of U.S. firms to produce goods that Chinese want to buy, a U.S. business group said on Tuesday.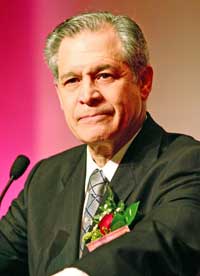 Charles Martin, the president of the American Chamber of Commerce in China. [amcham-china.org.cn]

Threatening China with tariffs and quotas may not be the best strategy, and could backfire, Charles Martin, the president of the American Chamber of Commerce in China, told foreign media.

"The idea of pushing countries around isn't valid, it doesn't work," said Martin. "The U.S. has to produce products that are desired in other markets."

Washington has blocked imports of billions of dollars of Chinese-made underwear, pants and other clothing this year under an emergency textile "safeguard" provision that Beijing accepted when it joined the World Trade Organization in 2001.

The United States wanted a textile trade agreement with China but would not sacrifice its right to restrict imports of Chinese clothing when there was a surge, U.S. Trade Representative Rob Portman said last week.

U.S. lawmakers are under intense pressure to protect domestic industries that say China unfairly keeps its currency undervalued to boost exports and erects trade barriers.

China revalued the yuan by 2.1 percent in July, but U.S. lawmakers want further revaluation to cut a trade deficit with China that could surpass last year's record $162 billion.

Martin said China's market was "a pretty fair playing field and getting fairer all the time."





| | |
| --- | --- |
| | |
| US Navy destroyer visits Qingdao | |

| | |
| --- | --- |
| | |
| Buddhist monks attend MBA program in Shanghai | |

| | |
| --- | --- |
| | |
| President Hu visits Mexico | |
Today's Top News
Top China News

Oil prices too high to stock strategic reserve




US to blame for China trade friction: Amcham




Fresh nuke talks bid to end nuclear impasse




Hu signs trade pacts with Mexico's Fox




Many IMF directors want gradual yuan moves




Human tests prove AIDS vaccine safe