Early results give Norway opposition a win
(AP)
Updated: 2005-09-13 10:42
Norway was poised for a power shift after the left-leaning opposition won a majority of seats in Parliament with pledges to spend more of the nation's vast oil wealth on welfare, official election results showed early Tuesday.
With more than 96 percent of votes counted, a three-party coalition led by the Labor party had grabbed 88 seats in the 169-seat assembly, enough to oust the center-right government.
Prime Minister Kjell Magne Bondevik, who campaigned on promises of tax cuts, said if the final tally confirmed the result, his government would resign after presenting its draft 2006 budget on Oct. 14.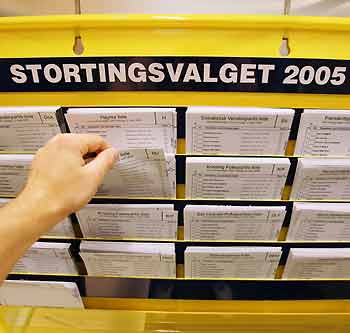 A voter chooses from an array of party lists for the Norwegian parliamentary elections in Oslo September 12, 2005. Norway's left-of-centre opposition was set to oust Prime Minister Kjell Magne Bondevik's centre-right government in an election on Monday after promising to spend more oil revenues on welfare, two exit polls showed. [Reuters]

Labor leader Jens Stoltenberg, who campaigned on a pledge to spend more of the nation's oil money on welfare, said the opposition Red-Green alliance would start talks in the next few days on forming a coalition majority government.

"In this campaign we had two goals: a strong election for Labor and a chance to form a majority government. The one goal has been reached, the other is within reach," said Stoltenberg, a 46-year-old former prime minister.

Bondevik acknowledged his days as prime minister were likely over, saying: "I am disappointed by such a political defeat, but we had been prepared for the possibility."

Bondevik's government has presided over four years of unprecedented prosperity in the country of 4.6 million, and the nation's wealth has been boosted by a windfall from record high oil prices. But critics complained of cracks in the welfare state, including shortcomings in education, health and elderly care.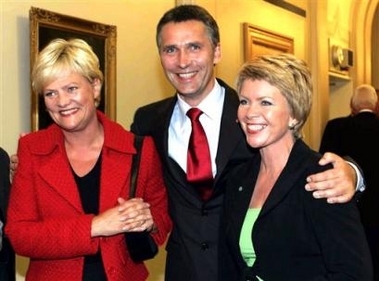 Labour Party leader Jens Stoltenberg pictured in the House of Parliament in Oslo, Norway, Monday Sept 12 2005 with Kristin Halvorsen (left), leader of the Socialist left Party and and Aslaug Haga (right), leader of the Centre Party. Following the Norwegian parliamentary elections preliminary results are pointing in the direction of a new government formed from a socialist coalition of these three parties.[AP]

Stoltenberg said he thought Labor had made strong gains because "many agree with our main message: "That we can make Norway even better with the fantastic resources we have."

Bondevik, 58, a Christian Democrat and Lutheran minister who has led a three-party coalition government since 2001, had campaigned on promises of further reducing taxes while improving health care and education.

Debate also raged over how to use the oil income, with the far-right populist Party of Progress saying Norway should tap into the $192 billion fund where it invests surplus oil revenue. Offshore oil platforms have made Norway the world's third-largest oil exporter, after Saudi Arabia and Russia.

European Union membership, which Norwegian voters rejected in 1972 and 1994, has not been an issue.

Oslo voter Kari Murberg Martinsen, 42, said she supports the Red-Green alliance because "I am concerned about children and education, and think we owe the elderly decent treatment."

Bondevik said he believed his three-party coalition was hurt by attacks from Party of Progress leader Carl I. Hagen, who said he would not accept another government with Bondevik as prime minister.

Bondevik's minority government of Conservatives, Christian Democrats and Liberals took power four years ago with the support of Hagen's party, but refused it Cabinet posts or any other formal alliance, partly because of its anti-immigration stance.

The Party of Progress advanced in the election to become Norway's second largest party with 37 seats, according to the preliminary count. Labor gained 19 seats for a total of 62, the results showed.




| | |
| --- | --- |
| | |
| Hurricane Ophelia | |

| | |
| --- | --- |
| | |
| US Chief Justice nominee John Roberts sworn in | |

| | |
| --- | --- |
| | |
| Russian delegation arrives for nuclear talks | |
Today's Top News
Top World News

Fresh nuke talks bid to end nuclear impasse




Hu signs trade pacts with Mexico's Fox




Many IMF directors want gradual yuan moves




Human tests prove AIDS vaccine safe




EU to release blocked Chinese clothes Sep 14




Boeing sells first private jet in China