EU to release blocked Chinese clothes Sep 14
(AFP)
Updated: 2005-09-13 10:13
Chinese textiles blocked for weeks at European ports can be released on Wednesday, when a quota deal struck between the EU and China goes into effect, AFP reported.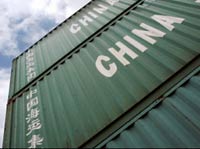 Containers with Chinese-made textiles are stored at Rouen. [AFP]

European Commission spokeswoman Francoise Le Bail said the EU executive had just adopted a regulation "which will allow all textiles which are stuck in warehouses to be released."

The regulation will be formally published on Tuesday and will come into force on Wednesday, allowing EU member state governments to grant import licenses for the blocked goods, she said Monday.

Le Bail added that the implementation of the agreement "will bring to an end the problem which has been ongoing for a number of months and will allow these textile products to come onto the shelves in shops very quickly during the course of this week".

Millions of Chinese items, including sweaters (pullovers), trousers, blouses, T-shirts, bras and tonnes of flax yarn, are impounded at European ports because they exceed import quotas agreed by both sides in June.

EU trade chief Peter Mandelson, who secured the deal last week in Beijing, said in statement: "I am pleased that the EU and China have been able to resolve this problem with the implementation of the textiles agreement in a way that preserves it without unfairly penalising retailers and importers."

Under the deal struck between Mandelson and Chinese Commerce Minister Bo Xilai, the EU and China will share the quota burden caused by the stockpiles.

About half of the estimated 80 million textile products being held up will enter the EU outside the quotas, while the other half will be added to China's 2006 textile limit.

As well as straining relations between the EU and China, the dispute had led to warnings that a shortage of the goods could cause prices to rise and hit European importers and retailers.

The question of how to deal with the logjam divided EU members, roughly between southern European countries whose manufacturers fear the flood of cheap imports and northern countries where retailers want fresh stocks.




| | |
| --- | --- |
| | |
| Buddhist monks attend MBA program in Shanghai | |

| | |
| --- | --- |
| | |
| President Hu visits Mexico | |

| | |
| --- | --- |
| | |
| HK disneyland opens | |
Today's Top News
Top China News

Fresh nuke talks bid to end nuclear impasse




Hu signs trade pacts with Mexico's Fox




Many IMF directors want gradual yuan moves




Human tests prove AIDS vaccine safe




EU to release blocked Chinese clothes Sep 14




Boeing sells first private jet in China