Many IMF directors want gradual yuan moves
(AP)
Updated: 2005-09-13 09:28
WASHINGTON - The International Monetary Fund wants to see China build upon efforts to revamp its currency system, although IMF officials differ on how quickly this should be done.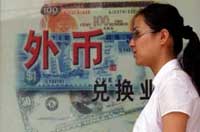 A Chinese woman walks past a poster advertising foreign exchange business at a bank in Shanghai in this August 11, 2005 photo. Many IMF directors said they want a gradual, cautious reform of the Chinese yuan exchange system. [Reuters]

That was among the points in an economic snapshot of China released Monday. The assessment is part of ongoing economic evaluations of countries conducted by the 184-nation IMF, which seeks to keep a pulse on the world economy.

Responding to calls from the United States, the rest of the world's economic powers, the IMF and others, China announced in late July that it was allowing its currency to rise slightly against the U.S. dollar.

For a decade, Beijing had linked its currency, the yuan, directly to the U.S. dollar.

The policy has long been a sore spot for U.S. manufacturers who contend that China's currency practice has artificially undervalued the yuan, hurting sales of U.S. exports and costing U.S. factory jobs.

While U.S. manufacturers and the Bush administration welcomed China's move in July, they still said they would like to see more progress by China toward a more flexible currency system.

IMF officials in Monday's assessment said they would like to see progress as well, but they had different thoughts on the pace.

"Going forward, many (IMF) directors supported a gradual, cautious approach to further increasing exchange-rate flexibility ... to allow time for the economy to adjust," the assessment said. "However, a number of other directors recommended that the authorities allow the exchange rate to move more quickly toward a level that better reflects underlying market forces."

IMF officials also said that "protectionist sentiments" have increased in recent months from some of China's trading partners as Chinese-made clothing and textiles shipments abroad has surged. In response, the United States has imposed limits on certain Chinese apparel and textiles.

On other matters, IMF officials projected China's economic would grow by a blistering 9 percent this year, down slightly from 9.5 percent growth logged in both 2003 and 2004. Inflation should average around 3 percent this year, down from 3.9 percent in 2004.




| | |
| --- | --- |
| | |
| Buddhist monks attend MBA program in Shanghai | |

| | |
| --- | --- |
| | |
| President Hu visits Mexico | |

| | |
| --- | --- |
| | |
| HK disneyland opens | |
Today's Top News
Top China News

Fresh nuke talks bid to end nuclear impasse




Hu signs trade pacts with Mexico's Fox




Many IMF directors want gradual yuan moves




Human tests prove AIDS vaccine safe




Typhoon Khanun hits East China, killing 14




Select firms float non-tradable shares