Hu signs trade pacts with Mexico's Fox
(AFP)
Updated: 2005-09-13 07:12
MEXICO CITY - President Hu Jintao signed several bilateral trade agreements with Mexico to boost trade between the two developing nations and said China welcomed more Mexican products into the Asian giant's growing market. AFP reported.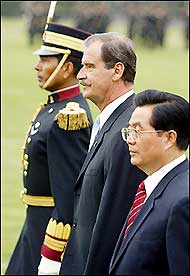 Mexican President Vicente Fox (C) and his Chinese counterpart Hu Jintao (R), take part in a reception ceremony at the Marte fields in Mexico City. [AFP]

Hu and Mexican President Vicente Fox also discussed reform of the United Nations and concerns in the Mexican textile industry over illegal Chinese imports.

"China welcomes the presence of more and more Mexican products in our market," Hu said in a news conference during his first official trip to North America.

Hu said he was willing to start talks with Mexico regarding cooperation and investment in agriculture, fishing, mining and light industry.

Hu and Fox signed seven trade agreements, including Mexican grape and pear exports to China.

Trade between the two countries is growing and approaches 15 billion dollars a year, but it heavily favors China, Fox said.

Mexico's business community charges that the smuggling of Chinese products is putting 30 different industries at risk in Mexico. The Mexican textile industry claims that 58 percent of garments sold in Mexico are illegal and many come from China and other Asian nations.

Fox said he and Hu shared a "broad consensus" on reform of the United Nations and the UN Security Council.

Hu visited Canada before traveling here. He will attend a summit of world leaders at the United Nations that starts Wednesday.