Passengers freed on hijacked Colombian jet
(AP)
Updated: 2005-09-13 07:06
BOGOTA, Colombia - A father in a wheelchair and his son hijacked an airliner Monday, claiming to be armed with grenades, but they freed all the passengers more than four hours after landing in Bogota, authorities said. The crew was reported still on the plane.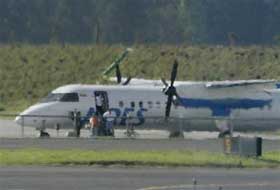 Passangers of a hijacked Colombian airliner leave the plane parked at the tarmac of the Bogota's El Dorado airport, Monday, Sept 12, 2005. [Reuters]

The Aires plane, believed to be carrying 20 passengers and five crew, had left the southern city of Florencia when it was commandeered, air force Gen. Edgar Lesmez said. The plane landed in Bogota, its original destination, but at a military airfield next to the civilian El Dorado Airport.

The hijackers demanded a meeting with representatives of the Catholic Church, the attorney general's office and a human rights organization, officials said, and government negotiators and a priest spoke with them while the twin-propeller plane stood on the tarmac.

It was not known if the men made any other demands.

Live television broadcasts later showed people filing off the plane. A negotiator confirmed to The Associated Press by phone from inside the plane that the passengers had been let go, but that the crew remained on board.

The hijackers earlier allowed five women and two babies to leave the plane, Bogota's police chief, Gen. Luis Alberto Gomez, said.

Martin Gonzalez, spokesman for the Civil Aviation Authority, identified the hijackers as Luis Ramirez, about 42, and his son Linsen Ramirez, about 22.

They did not appear to belong to any of Colombia's illegal armed groups, said Gen. Alberto Ruiz, chief of operations for the National Police. "They seem to be common citizens," he told reporters.





| | |
| --- | --- |
| | |
| Russian delegation arrives for nuclear talks | |

| | |
| --- | --- |
| | |
| 4th anniversary of 9/11 commemorated in Beijing | |

| | |
| --- | --- |
| | |
| Post-Katrina New Orleans | |
Today's Top News
Top World News

Fresh nuke talks bid to end nuclear impasse




Hu signs trade pacts with Mexico's Fox




Select firms float non-tradable shares




Human tests prove AIDS vaccine safe




Boeing sells first private jet in China




Typhoon Khanun hits East China, killing 14