Fresh nuke talks bid to end nuclear impasse
By Hu Xiao (China Daily)
Updated: 2005-09-13 05:55
After a flurry of behind-the-scenes diplomatic efforts during a month of recess, the Six-Party Talks aimed at ending the nuclear standoff in the Korean Peninsula will resume today in Beijing.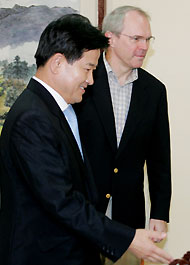 US Assistant Secretary of State for East Asian and Pacific Affairs and top negotiator for the six-party talks Christopher Hill (R) meets South Korean Unification Minister Chung Dong-young in Seoul September 12, 2005. [Reuters]

The prospects of the fourth round of the talks remain unclear, as Pyongyang and Washington are still far apart in the scope of the denuclearization. However, negotiators have promised to make joint efforts for the adoption of a common document.

The six parties involved are China, the Democratic People's Republic of Korea (DPRK), USA, the Republic of Korea (ROK), Russia and Japan

Alexander Alexeyev, head of the Russian delegation to the talks said when he arrived at the Beijing Capital International Airport yesterday that the Russian side would try its best, and hoped that all the other parties would make joint efforts.

The talks, originally scheduled to restart at the end of August, have been delayed by two weeks because of Pyongyang's protests against joint US-ROK military exercises and the US appointment of a special envoy on DPRK human rights conditions.

During the recess, US and DPRK officials met several times in New York.

The chief US negotiator Christopher Hill said yesterday in Seoul that Washington had used the one-month recess very constructively and productively.

"We are ready and we will see the mood of the DPRK delegates," Hill was quoted as saying by Yonhap news agency in a meeting with ROK Unification Minister Chung Dong-young.





| | |
| --- | --- |
| | |
| President Hu visits Mexico | |

| | |
| --- | --- |
| | |
| HK disneyland opens | |

| | |
| --- | --- |
| | |
| Typhoon batters Zhejiang | |
Today's Top News
Top China News

Fresh nuke talks bid to end nuclear impasse




Hu signs trade pacts with Mexico's Fox




Select firms float non-tradable shares




Typhoon Khanun hits East China, killing 14




Human tests prove AIDS vaccine safe




Boeing sells first private jet in China