Iran warns against UN referral on nukes
(AP)
Updated: 2005-09-12 09:24
Iran said Sunday it would not stop uranium conversion and warned of consequences if it was referred to the U.N. Security Council for possible sanctions over its nuclear program, AP reported.
Foreign Minister Manouchehr Mottaki said Iran wants to continue dialogue with Europe without preconditions and rejected a U.S.-European threat that Tehran has about a week to freeze uranium processing activities or face referral to the Security Council.
"There is no legal or legitimate reason, given Iran's transparent activities and its open cooperation with the IAEA ... that Iran be referred to the U.N. Security Council," Mottaki told a news conference.
"If a political decision is made to refer Iran to the U.N. Security Council, it will be entering a lose-lose game," he said. "It will have its own certain consequences and will affect Iran's decisions. We prefer that such a game is not played."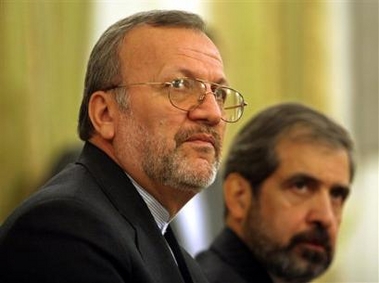 Iranian Foreign Minister, Manuchehr Mottaki, left, listens to a question, next to Foreign Ministry spokesman, Hamid Reza Asefi, during a press conference in Tehran, Iran, Sunday, Sept. 11, 2005. [AP]

Mottaki also said Iran plans to seek bids for building two more nuclear power plants in the Islamic republic. Russia now is finishing a plant in Bushehr that Iran expects to begin producing electricity early next year.

The United States accuses Iran of using its civilian nuclear program as a cover to secretly produce nuclear weapons. Iran has rejected the charges, saying its nuclear program is geared toward generating electricity, not a bomb.

Mottaki said Tehran would ignore European calls to stop uranium conversion, which was resumed last month at its Uranium Conversion Facility in Isfahan in central Iran.

"The issue of re-suspension of work in Isfahan doesn't exist in our agenda," Mottaki vowed.

But he said Iran was willing to continue dialogue over its nuclear program with European negotiators.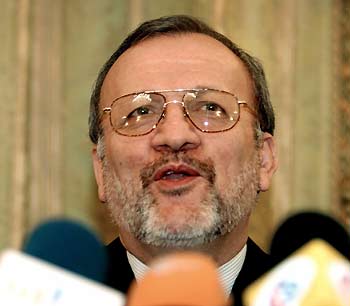 Iran's Foreign Minister Manouchehr Mottaki speaks during a news conference in Tehran September 11, 2005. [Reuters]

Britain, Germany and France, negotiating on behalf of the 25-nation European Union, say they may help draft the language of a resolution demanding Iran be referred to the Security Council if it doesn't stop uranium conversion by the Sept. 19 board meeting of the United Nations' International Atomic Energy Agency.

The threat came after a report earlier this month by IAEA chief Mohamed ElBaradei said Tehran had produced about seven tons of the gas needed to enrich uranium — a possible pathway to a nuclear weapon — after restarting work in Isfahan.

The Isfahan facility converts uranium concentrate ore, known as yellowcake, into uranium hexaflouride gas, the feedstock for enrichment.

Uranium enriched to low levels is used to produce nuclear fuel used to generate electricity; further enrichment makes it suitable for use in nuclear weapons.

Iran says it won't restart uranium enrichment for now at another nuclear facility in the central city of Natanz, where it was suspended in 2003 under a deal with the Europeans. But Tehran insists it will never again suspend uranium conversion in Isfahan.

Iran restarted work in Isfahan in August after rejecting a European package of proposals urging it to permanently stop uranium enrichment in return for a supply of nuclear fuel and economic incentives.

Tehran said the proposals went against the spirit of the Nuclear Nonproliferation Treaty and previous agreements with Europe, which had recognized Iran's right to use nuclear energy for peaceful purposes.

Mottaki said a list of Iranian nuclear proposals were being drawn up and were likely to be delivered to U.N. officials and heads of state by Iranian President Mahmoud Ahmadinejad when he arrives in New York for next week's U.N. General Assembly.