Palestinians taking control in Gaza Strip
(AP)
Updated: 2005-09-12 09:06
Triumphant Palestinian troops accompanied by cheering, flag-waving crowds took control of abandoned Jewish settlements in the Gaza Strip Monday, as Israeli troops rolled out of the territory in convoys in the final phase of Israel's pullout from the territory after 38 years of occupation.
Fireworks lit up the sky, Palestinian gunmen fired in the air in celebration and crowds set fire to the synagogue in the abandoned Morag settlement, closest to Palestinian towns. In another synagogue, gunmen climbed on the roof and waved flags of militant groups, including Hamas, shouting "God is great."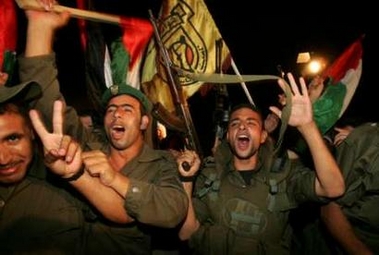 Palestinian security officers celebrate before their deployment inside vacated Jewish settlements in the southern Gaza Strip, September 11, 2005. [Reuters]

"It is only the first step to more liberation ... tomorrow we liberate all of Palestine," Gaza resident Mohammed Khamish Habboush shouted into a mosque loudspeaker.

Israel had demolished nearly all buildings in its 21 Gaza settlements after evacuating the residents, but it decided at the last minute to leave 19 synagogues intact, a decision criticized by the Palestinians and the United States.

Early Monday, Palestinians started carrying off what was left in the debris in the settlements, including chairs, tables and shopping carts. Young men tore down electricity poles, grabbing the wires, and several people carried off window frames.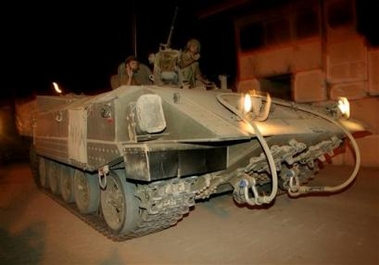 An Israeli army armored vehicle leaves the Gaza Strip through the Kerem Shalom Crossing into Israel early Monday, Sept. 12, 2005. [AP]

In the former isolated settlement of Netzarim, women ululated in celebration.

The 5,000 Israeli troops who had been left in Gaza began driving toward Israel before dawn Monday. Dozens of soldiers waited on the Israeli side of the crossing as the first convoy of armored vehicles passed through the Kissufim crossing. Gaza commander Brig. Gen. Aviv Kochavi was expected to be the last Israeli soldier to leave.

Late Sunday, Israeli troops had lowered their national banner in Neve Dekalim, once the largest Jewish settlement in Gaza. They snapped farewell pictures and closed army headquarters, which were left intact for use by the Palestinians.





| | |
| --- | --- |
| | |
| 4th anniversary of 9/11 commemorated in Beijing | |

| | |
| --- | --- |
| | |
| Post-Katrina New Orleans | |

| | |
| --- | --- |
| | |
| 12th APEC Finance Ministers Meeting | |
Today's Top News
Top World News

East coast provinces battered by Typhoon Khanun




President Hu arrives in Mexico for visit




Shenzhou VI flight 'after October holiday'




EU warns of new China textile 'disaster'




China drafts emergency plans for influenza




Optimism for a harmonious Hong Kong