Bush 'squandered' post 9/11 goodwill - Gulf press
(AFP)
Updated: 2005-09-12 08:50
The administration of US President George W. Bush has squandered the global goodwill generated by the September 11 attacks of four years ago, Gulf newspapers said, AFP reported.
"There is a sense of deep unease at the direction the Bush White House is taking," said the English-language Gulf News in the United Arab Emirates.
It cited "the go-it-alone attitude, the abject failure to catch Osama bin Laden, the inability to stabilize Iraq, the inability to even guarantee an electricity supply for Baghdad."
"Most serious of all is the good will that has been spent so callously by the White House. In the words of that famous French newspaper headline four years ago 'We are all Americans'... It is difficult to imagine that sentiment being expressed today," the paper wrote.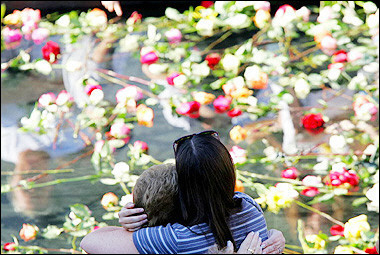 A couple embrace at the reflective pool on the footprint of the South Tower of the World Trade Center at Ground Zero on the fourth anniversary of the 9/11 terrorist attacks in New York City.[AFP]

A total of 2,749 people died when the twin towers of the World Trade Center collapsed after being hit by two hijacked airliners in the most spectacular and devastating attack of bin Laden's Al-Qaeda network.

Al-Bayan, another Emirati daily, said that four years after 9/11, the United States was still "on the loose" while terrorism gave no sign of abating.

The United States has become obsessed with tracking down its adversaries abroad "under the banner of 'fighting terrorism'," while the terrorists have "widened the cycle of indiscriminate violence under the banner of fighting the external Western enemy," the paper said.

Saudi Arabia's Al-Watan slammed the United States for tarring all Arabs and Muslims with the terrorist brush "without differentiating between the Al-Qaeda organization -- which includes Americans, Europeans and Asians within its ranks -- and the Arab countries, chiefly Saudi Arabia, to which some Al-Qaeda elements belong."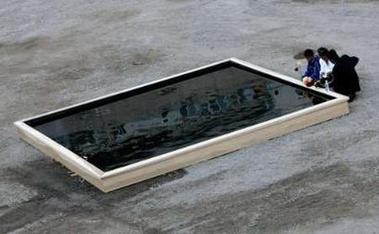 The first family members of victims arrive at the reflective pool at the footprint of the South Tower of the World Trade Center at Ground Zero on the Fourth Anniversary of the 9/11 attacks in New York City September 11, 2005. [Reuters]

"Washington justifies this generalization by the fact that most of those who carried out the attacks held Saudi citizenship, overlooking the role Saudi Arabia played in uprooting Al-Qaeda... from Saudi society."

Saudi Arabia, bin Laden's country of origin, has been battling Al-Qaeda suspects who have carried out a spate of shootings and bombings in Saudi Arabia since May 2003, many targeting Westerners.

Al-Watan said this month's meeting of the United Nations should seek to find a common denominator on which all countries agree to define terrorism, drawing a distinction between that scourge and resistance to occupation, "as happens chiefly in Palestine."




| | |
| --- | --- |
| | |
| 4th anniversary of 9/11 commemorated in Beijing | |

| | |
| --- | --- |
| | |
| Post-Katrina New Orleans | |

| | |
| --- | --- |
| | |
| 12th APEC Finance Ministers Meeting | |
Today's Top News
Top World News

East coast provinces battered by Typhoon Khanun




President Hu arrives in Mexico for visit




Shenzhou VI flight 'after October holiday'




EU warns of new China textile 'disaster'




China drafts emergency plans for influenza




Optimism for a harmonious Hong Kong