Hong Kong Disneyland ready to open Monday
(AP)
Updated: 2005-09-11 15:27
Disneyland _ with a capacity of 30,000 people _ has received a generally warm welcome in Hong Kong. Large crowds strolled around a long red-brick public promenade outside the park over the weekend.
Many of the visitors who got a sneak peak in the past month have complained that the park is too small. It's Disney's most petite park, with only about 40 hectares (about 100 acres) devoted to rides and other attractions _ a fact Disney doesn't highlight.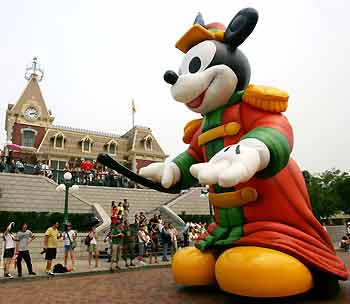 A float featuring Mickey Mouse is seen during the "Disney on Parade" show for guests at Hong Kong Disneyland September 11, 2005, a day before its official opening. [Reuters]

After having her picture taken with Cinderella, Joyce Yue, who works for a marketing firm, complained about the park's size. "I won't come back until it has the expansion," said Yue, who was in her late 20s.

The entire attraction _ including the two hotels _ is 121 hectares (298 acres) _ and it can be expanded to 200 hectares (494 acres).

Disney President Robert Iger told The Associated Press that the park was a "giant step" in his company's push into the huge China market. The park plans to draw about 40 percent of its guests from across the border on Chinese mainland.

Iger, who takes over as Disney's chief executive officer next month, said the park should boost interest in Disney's movies, TV shows and other products in China _ where generations have grown up with little familiarity with the American brand.

Visitor Wei Jun, 34, a businesswoman from Beijing, said she would definitely return with friends. "I like the indoor attractions, the theaters. I didn't care too much about the outdoor things. They're too crowded," she said.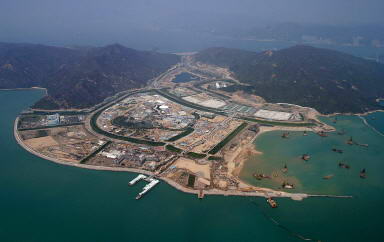 An aerial view of Hong Kong Disneyland. [sina.com]

The US$3.5 billion park is a joint venture between Disney and the Hong Kong government. It employs 5,000 workers _ or "cast members" as Disney likes to call them _ and the park estimates that it will attract 5.6 million visitors in its opening year.

The park is a 30-minute subway ride from central Hong Kong, and it's served by its own public rail line _ the only one in the world specially built for a theme park. The train has windows shaped like Mickey Mouse's head and the subway cars sport velvet theater seats and statues of Disney characters.

The project was announced in 1999 and construction began in 2003. Disney's other parks are Tokyo, Paris and the U.S. states of California and Florida.





| | |
| --- | --- |
| | |
| 2005 World Model Contest in Northeast China | |

| | |
| --- | --- |
| | |
| Paris Hilton turns happy homemaker | |

| | |
| --- | --- |
| | |
| Olympics themed jetliner ascends into the sky | |
Today's Top News
Top Life News

305,000 evacuated as typhoon nears East China




China, Canada to build strategic partnership




China's diplomacy enters golden age




Katrina costs could approach those of wars




Hong Kong Disneyland ready to open Monday




Dengue plunges Singapore into health crisis