Search broadens for bodies in New Orleans
(AP)
Updated: 2005-09-11 12:39
Cadaver dogs and boatloads of forensic workers fanned out Saturday across New Orleans to collect the corpses left behind by Hurricane Katrina. Cleanup crews towed away abandoned cars and even began readying a hotel for reopening, AP reported.
Despite missing 300 officers from his 1,750-strong force, Police Chief Eddie Compass was upbeat as he reported that 200 arrests had been made since the hurricane.
"We are definitely in control of this city," Compass said. "We've been almost crime-free for the last four days."
The confirmed death toll in Louisiana stood at 154 people, including some patients on life support who died when power went out, but the toll was expected to climb as crews collected bodies trapped in houses and floating in murky water. Police and military officials have been marking the location of bodies with global positioning devices and paint on the outside of houses.
Around the city center, crews began cleaning the mounds of trash and other debris strewn by the hurricane and by fleeing residents.
Bulldozers pushed heaps of chairs, sleeping bags and other discarded items into giant piles at the convention center, the chaotic site where thousands initially took refuge before being evacuated a week ago. Dump trucks were hauling the debris away.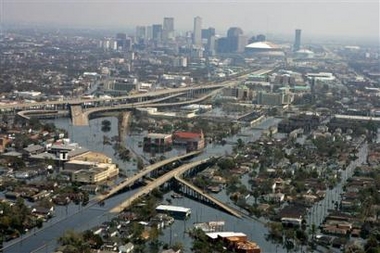 Nearly two weeks since Hurricane Katrina hit, floodwaters continue to cover parts of New Orleans Saturday, Sept. 10, 2005. [AP]

Tow truck drivers started picking up scores of abandoned cars littering the streets; other workers unloaded food and supplies for employees working in Bell South's downtown office.

At the Parc St. Charles hotel, workers went floor to floor cleaning up. "There's lot of spoiled meat, a lot of bacteria that needs to be cleaned up," said Bob Allen, who was supervising the job.

At the Superdome, where thousands first sought shelter only to be trapped inside by the floodwaters, water levels had dropped markedly. Water that once submerged cars parked around the dome had dropped to about a foot high.

A group of police, doctors and National Guardsmen inspected Charity Hospital, where doctors and patients had been stranded in rising flood waters.

Doctors hoped to be able to reopen it to help treat skin infections, dehydration and other illnesses, said Dr. Jeffrey Kochan, who is overseeing medical services in New Orleans. But they found the basement full of water, meaning electricity couldn't be restored. Kochan said they would inspect the city's other hospitals.

Thousands of residents continue to defy orders to leave the city, but security forces were not physically forcing anyone to go. Mayor Ray Nagin warned earlier that residents could be forcibly removed, but authorities have been reluctant to take that step.

Throughout the city, searchers were picking up bodies.

A team in white protective suits pulled at least eight body bags from Bethany Home, a century-old center for senior citizens.

At the grand stone entrance of City Park, in the heart of New Orleans, workers took out two bodies: one partially submerged in water and another covered in a blanket and marked with orange paint indicating searchers had previously reported it. A walker, a bag of clothes and life jacket were nearby.

Crews from Disaster Mortuary Operational Response Teams, a group of volunteer medical professionals called in by the federal government for disasters, processed the bodies and took them away in refrigerated trucks.

The experts have set up a field morgue in St. Gabriel, a tiny community between Baton Rouge and New Orleans, where a chain link fence shrouded in black plastic now sits near City Hall, hiding the morgue operation from onlookers.

Officials were processing bodies around the clock. "The ability to capture useful information from that body diminishes from week to week, month to month," said Terry Edwards, director of the morgue.

The U.S. Army Corps of Engineers said most of the city could be drained within a month, though some areas hit by the storm surge could take longer. The estimates are far shorter than early predictions by the corps, which has struggled to get breached levees repaired and pumps operational.

"We learned long ago not to be too optimistic in times like this. But a few days ago we were talking about 80 days," said Lt. Gen. Carl Strock, the Corps' chief of engineers, who was in Vicksburg, Miss.

Power and other utilities remain out in most of the affected region. More than 427,000 customers lack power, and 500,000 have no phone service, state officials said.




| | |
| --- | --- |
| | |
| Post-Katrina New Orleans | |

| | |
| --- | --- |
| | |
| 12th APEC Finance Ministers Meeting | |

| | |
| --- | --- |
| | |
| Evacuation continues in New Orleans | |
Today's Top News
Top World News

305,000 evacuated as typhoon nears East China




China, Canada to build strategic partnership




China's diplomacy enters golden age




China banks target public listings in 2006




Dengue plunges Singapore into health crisis




Fireworks ban goes up in smoke in Beijing