Dengue plunges Singapore into health crisis
(AFP)
Updated: 2005-09-11 11:06
A dengue fever outbreak has plunged Singapore into its worst health crisis since the 2003 SARS epidemic, forcing officials to escalate a campaign against the spread of the mosquito-borne disease, AFP reported.
Public hospitals in the modern city-state better known for its cleanliness are delaying non-urgent operations to cope with an outbreak that has killed eight and infected over 9,000 of Singapore's 4.2 million people this year.
These could soon surpass the record 9,459 cases and eight deaths from dengue last year, causing public alarm despite the fact that the debilitating viral disease is an endemic, year-round problem.
By one estimate, over 100 new cases per day are now being reported, and since there is no effective vaccine against the virus, mosquito eradication is the only means of containing it.
Health Minister Khaw Boon Wan has gone to the extent of urging Singaporeans to postpone breast enlargement and other forms of non-critical surgery to ease the load on public hospitals in Singapore, where foreigners regularly go for sophisticated operations.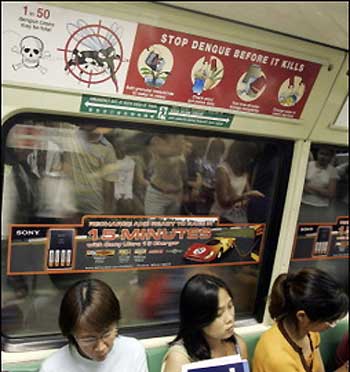 A subway train in Singapore carries a sign warning people about the dangers of dengue fever.[AFP]

The last time non-urgent forms of surgery were delayed here was during the Severe Acute Respiratory Syndrome (SARS) regional health crisis in 2003 which killed 33 Singaporeans and slowed down the travel-dependent economy.

Khaw has called for a "SARS approach" to the dengue problem -- a no-compromise campaign to cut the disease transmission chain.

A government hotline will be set up to take calls about possible "hotspots" of mosquito breeding after Prime Minister Lee Hsien Loong called the situation "worrying" and urged the entire population to help.

Citizens, expatriates and health experts are wondering how one of Asia's richest and most sanitation-conscious countries could suffer an outbreak normally associated with wretchedly poor nations.

"It is hard to understand because in the past, Singapore has had a very sophisticated dengue surveillance and prevention system," said Dr Kevin Palmer, a dengue expert with the World Health Organization (WHO) regional office in Manila.

"The rising number of cases and deaths indicates that something may have happened to that system whereby some breeding places have gone unnoticed and therefore uncontrolled," Palmer told AFP.

Unlike in the past when construction sites were the main mosquito breeding grounds, private residences have now been identified as the culprits, but threats of fines against negligent homeowners have failed to stem the outbreak.

An expatriate mother was shocked when two of her three children came down with dengue soon after the family moved here in July from Cambodia, one of the poorest countries in the world.

"It's bizarre, isn't it? We were very surprised," said Delia Paul, who herself suffered dengue twice in Cambodia, where her children did not catch the disease after their home was protected with screens and anti-insect fogging.

Her 10-year-old daughter and seven-year-old son were initially diagnosed with the flu by a Singapore physician until she brought them to a children's hospital, where doctors recommended that they be admitted after a blood test.

"If they had been with these symptoms in Phnom Penh they would have been tested for dengue," she told AFP. "In Singapore we just didn't do that. Everything looks so clean here, we thought it can't be happening to us."

Dengue victim Lucy Davis, a university lecturer and arts magazine editor, said people living in Singapore "have a pretty blase attitude to mosquito bites -- so do I."

But she was all praises for Singapore's government hospitals, which she described as "fantastic" and staffed by efficient personnel, many of them from Singapore's less developed neighbors like India and the Philippines.

The WHO's Palmer, asked why dengue could regularly strike a modern Asian city like Singapore, said "it is persistent because the mosquito vector is well-adapted to urban situations".

"It is able to breed in very small collections of fresh water of the type that are found in and around human habitation such as old tires, saucers under potted plants, roof gutters ..." he said.

"Singapore is a place where dengue should not be a problem but it is, and there must be an explanation why we are seeing such a big rise in cases this year," he added.




| | |
| --- | --- |
| | |
| Post-Katrina New Orleans | |

| | |
| --- | --- |
| | |
| 12th APEC Finance Ministers Meeting | |

| | |
| --- | --- |
| | |
| Evacuation continues in New Orleans | |
Today's Top News
Top World News

305,000 evacuated as typhoon nears East China




China, Canada to build strategic partnership




China's diplomacy enters golden age




China banks target public listings in 2006




Bats may have been source of SARS - study




Fireworks ban goes up in smoke in Beijing