Chinese evacuate as typhoon threatens Shanghai
(Reuters/Xinhua)
Updated: 2005-09-11 10:47
China has evacuated hundreds of thousands of people living in the path of a typhoon which was forecast on Sunday to lash the east coast as it heads towards Shanghai, state media said.
Typhoon Khanun, which spared the island of Taiwan on Saturday, would unleash its full force between coastal Cangnan and Dinghai counties in Zhejiang province.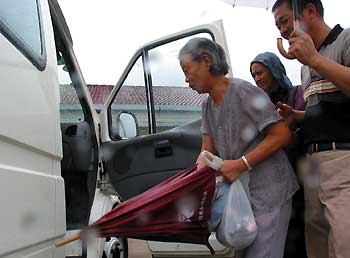 A Chinese woman prepares to step on a car to leave her home to a safter place on Sunday, September 11, 2005, in Taizhou, East China's Zhejiang Province. [Xinhua]

The port of Ningbo was directly in its path, according to Tropical Storm Risk Web typhoon tracker.

"More than 305,000 residents living in areas to be endangered by Khanun have been relocated to safe places, and over 31,000 ships and boats were called back to harbour," Xinhua quoted the provincial flood control and drought relief headquarters as saying.

The meteorological bureau of the province has raised its typhoon alert level from orange to red status, according to sources with the provincial meteorological bureau Sunday.

The bureau forecast that in the coming six hours, heavy winds at or above force 12 will sweep the sea waters in the coast of Zhejiang.

The coastal and inland areas as well as the rivers and lakes nearby the Hangzhou Bay of Zhejiang will be struck by heavy winds with force hitting 8 to 12.

The cities of Wenzhou, Taizhou, Zhoushan, Shaoxing and Ningbo will suffer from torrential rains.

Authorities in Shanghai, China's financial centre north of Zhejiang, had issued the yellow warning signal, demanding that more than 100,000 people working outdoors or living in sheds and other temporary housing evacuate to safety.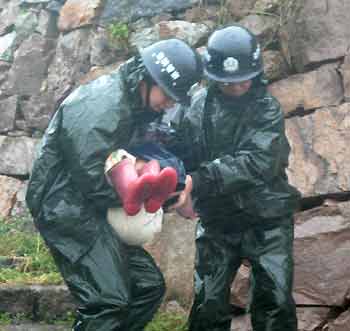 Chinese frontier defence forces carry a child to a safer place as Typhoon Khanun bears down on East China's Zhejiang Province, on Sunday, September 11, 2005. [Xinhua]

"Heavy rainstorms will strike Shanghai Sunday and Monday, Xinhua said.

Typhoon Matsa swept up China's east coast at the beginning of August, killing three people and forcing more than a million to flee their homes.

At the beginning of this month, Typhoon Talim killed up to 56 people in eastern China after unleashing torrential rains and triggering floods and landslides.

Typhoons, known as hurricanes in the West, gather strength from warm sea water and tend to dissipate after making landfall.

They frequently hit Taiwan, Japan, the Philippines, Hong Kong and southern China during a season that lasts from early summer to late autumn.




| | |
| --- | --- |
| | |
| US Pacific Command Commander in Zhanjiang | |

| | |
| --- | --- |
| | |
| President Hu in Canada for visit | |

| | |
| --- | --- |
| | |
| Tree signals China-Canada friendship | |
Today's Top News
Top China News

Chinese evacuate as typhoon threatens Shanghai




China, Canada to build strategic partnership




China's diplomacy enters golden age




Katrina costs could approach those of wars




Hong Kong Disneyland ready to open Monday




Dengue plunges Singapore into health crisis