Japan's PM heading for win in Sunday poll
(Reuters)
Updated: 2005-09-11 08:34
Japanese Prime Minister Junichiro Koizumi's coalition looked headed for victory as voters went to the polls on Sunday in an election that broke the mold in Japanese politics and raised expectations he will win a mandate for more economic reforms, Reuters reported.
Koizumi needs a substantial win to ensure his fractious Liberal Democratic Party (LDP) will support his reform agenda, starting with privatising the postal system -- a financial giant with $3 trillion in assets that has been criticised for funding wasteful public projects and inflating government debt.
A victory for Koizumi's two-party coalition would please Washington, where he is seen as a staunch friend for backing the U.S.-led war on Iraq, and would cheer investors in Japanese financial markets, who want reform to stay on track.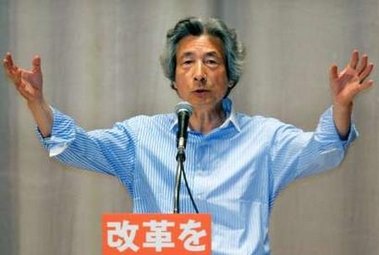 Japanese Prime Minister Junichiro Koizumi speaks to voters during the final campaign for Sunday's general election in his stumping tour in Tokyo September 10, 2005. [Reuters]

However, there would be scant applause in China and South Korea after ties have chilled since Koizumi took office in 2001 because of perceptions of rising Japanese nationalism and regional rivalry.

Media surveys have predicted Koizumi's two-party ruling bloc will win a comfortable or possibly overwhelming majority, and that the LDP could even win a majority on its own in parliament's lower house for the first time since 1990.

That would be a striking victory for Koizumi -- both over the opposition Democratic Party, which preaches reform, and over old guard LDP rivals who consider distributing benefits to the hinterlands and special interest groups to be their main job.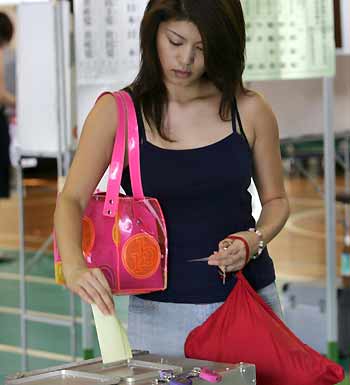 A Japanese woman casts her vote during a general election at a polling station in Tokyo September 11, 2005. [Reuters]

"He basically accomplished the impossible, painting the DPJ (Democratic Party of Japan) as a party against change and the LDP as the party of reform," said Gerald Curtis, a political science professor at New York's Columbia University.

"He is going to be stronger than ever before if he scores as big a victory as looks likely, and that means that if he can come up with substantive reform policies, he has a very good chance of getting them passed," Curtis added.

Koizumi, 63, a telegenic veteran with an aptitude for punchy slogans who has a mixed record on implementing change, called the election after LDP lawmakers helped the opposition to defeat bills to privatize Japan Post in parliament's upper house.

Many had expected the split in the party that has ruled Japan for most of the past 50 years to benefit the Democrats.





| | |
| --- | --- |
| | |
| Post-Katrina New Orleans | |

| | |
| --- | --- |
| | |
| 12th APEC Finance Ministers Meeting | |

| | |
| --- | --- |
| | |
| Evacuation continues in New Orleans | |
Today's Top News
Top World News

305,000 evacuated as typhoon nears East China




China, Canada to build strategic partnership




China's diplomacy enters golden age




Katrina costs could approach those of wars




Hong Kong Disneyland ready to open Monday




Dengue plunges Singapore into health crisis