Katrina costs could approach those of wars
(AP)
Updated: 2005-09-11 08:28
One storm could end up costing almost as much as two wars. Although estimates of Hurricane Katrina's staggering toll on the treasury are highly imprecise, costs are certain to climb to $200 billion in the coming weeks. The final accounting could approach the more than $300 billion spent in four years to fight in Afghanistan and Iraq.
Analysts inside and outside government agree that the $62 billion that Washington has spent so far was merely the first installment of perhaps an unparalleled sum.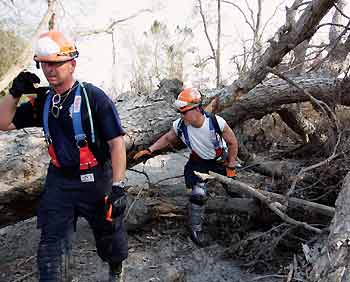 Georgia Search and Rescue Central members search a neighborhood in Violet, in the suburbs of New Orleans, September 10, 2005. It is believed the death toll in Louisiana will be lower than first reported but searchers continue looking for survivors and bodies. [Reuters]

"I cannot put a cost figure on it," Vice President Dick Cheney said Thursday in a visit to the hard-hit states.

The government never has dealt with a disaster of this scale: 90,000 square miles of the Gulf Coast affected, with hundreds of thousands of people displaced and an entire metropolitan area under water.

In 1992, the devastation of Hurricane Andrew in Florida and Louisiana cost $35 billion. The price for the 6.7-magnitude temblor in the Northridge area of Los Angeles in 1994 was $15 billion to $20 billion.

Members of the Louisiana congressional delegation say it could cost $100 billion just in New Orleans.

As for the overall toll, G. William Hoagland, the top budget adviser to Senate Majority Leader Bill Frist, R-Tenn., said: "We're obviously over $100 billion. I just don't know how much over."

As the House approved President Bush's second spending request Thursday, the chairman of the House Appropriations Committee predicted that lawmakers would repeat the effort in a few weeks. "It will be the greatest appropriations outlay for a disaster in the history of doing this," said Rep. Jerry Lewis.

The imprecision in calculating the costs reflects a Washington process of handling a crisis and the uncertainty of when the furious spending in the immediate aftermath will slow significantly.





| | |
| --- | --- |
| | |
| Post-Katrina New Orleans | |

| | |
| --- | --- |
| | |
| 12th APEC Finance Ministers Meeting | |

| | |
| --- | --- |
| | |
| Evacuation continues in New Orleans | |
Today's Top News
Top World News

305,000 evacuated as typhoon nears East China




China, Canada to build strategic partnership




China's diplomacy enters golden age




Katrina costs could approach those of wars




Hong Kong Disneyland ready to open Monday




Dengue plunges Singapore into health crisis