Ukraine's ex-PM to join the opposition
(AP)
Updated: 2005-09-10 10:48
Former Ukraine Prime Minister Yulia Tymoshenko, who came to symbolize Ukraine's Orange Revolution with her fiery speeches and chic style, signaled in an emotional, televised address Friday that she is moving into the opposition to President Viktor Yushchenko, her comrade in arms in last year's uprising.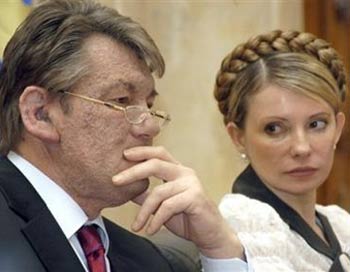 Ukrainian President Viktor Yushchenko, left, and Prime Minister Yulia Tymoshenko at a press conference in Kiev, Ukraine, in this Wednesday, April 27, 2005 file photo. [AP]



The move by Tymoshenko, whom Yushchenko sacked Thursday, deals the president a huge setback. Her popularity rivals his, and she could become a formidable opponent in parliamentary elections just six months away.

"Today we are two different teams," said Tymoshenko. "I think these two teams will go their own way. ... Viktor Yushchenko and I will go to the elections on parallel paths."

Yushchenko's firing of Tymoshenko's 7-month-old government, amid allegations of corruption, deepened a crisis that has diminished the popularity of the man whose dioxin poisoning and defiant stand against election fraud seized the world's attention last year.

Tymoshenko controls a 41-person bloc in parliament — smaller than Yushchenko's 96 but still a major force — and is likely to trigger at least a few high-profile defections.

"We will run as a separate and very powerful political force," she said in a live broadcast.

Tymoshenko blamed the circle around Yushchenko for her government's dismissal and the breakup of their union.

"I am sure it is not the president, it is his team," Tymoshenko said. Still, she also had harsh words for Yushchenko, accusing him of turning against her in favor of corrupt allies.

Yushchenko said he had dismissed Tymoshenko's government because it was too embroiled in internal bickering and was losing sight of their Orange Revolution promises. He also accepted the resignation of his close friend, chief of the Security and Defense Council, Petro Poroshenko.

Poroshenko and Tymoshenko had clashed from the onset of Yushchenko's presidency, and Tymoshenko expressed frustration that she was sidelined, saying her popularity had apparently threatened the president's inner circle.

Asked if Yushchenko betrayed her, she answered obliquely: "I forgive him."

Calling the recent developments terrible, she said she initially had hope that she could find a "solution" with Yushchenko.

Tymoshenko, a talented orator, had whipped up the crowds in Kiev's Independence Square last fall and winter, motivating hundreds of thousands to carry the Orange Revolution and Yushchenko to election victory. She spoke with the same earnestness Friday, repeatedly telling Ukrainians that she wanted their advice.

"She spoke with such honest eyes — but to what extent she was telling the truth I don't know, although I would like to believe her," said Valentina Lyubyva, a 51-year-old housewife. "I feel sorry for her."

Tymoshenko said she "failed to find understanding with Yushchenko's environment, with his team."

She accused the president of making unreasonable demands on her as they held marathon meetings this week in a bid to resolve the crisis.

Tymoshenko said she tried until the last minute Thursday morning to reach an agreement with Yushchenko that would preserve their union. But then Poroshenko, the chief financier of the revolution, entered the room in tears, complaining that parliament had stripped him of his lawmaker status, Tymoshenko said.

Yushchenko turned back to Tymoshenko and said: "It's over."

"Then the president left, practically breaking down our unity, our perspective, the future of the country," said Tymoshenko.

Twenty minutes later, Yushchenko announced he was dismissing the government, she said.




| | |
| --- | --- |
| | |
| Post-Katrina New Orleans | |

| | |
| --- | --- |
| | |
| 12th APEC Finance Ministers Meeting | |

| | |
| --- | --- |
| | |
| Evacuation continues in New Orleans | |
Today's Top News
Top World News

China, Canada to build strategic partnership




China's diplomacy enters golden age




China banks target public listings in 2006




Bats may have been source of SARS - study




Fireworks ban goes up in smoke in Beijing




Bush approval rating dips below 40%