China to plow US$240b into rail by 2015
(AFP)
Updated: 2005-09-10 09:44
China plans to invest some two trillion yuan (241 billion dollars) in upgrading its passenger rail system by 2015.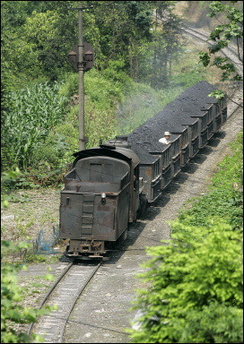 A coal locomotive in Sichuan. China plans to invest some 241 billion US dollars in upgrading its passenger rail system by 2015.[AFP]
Lu Dongfu, vice minister of railways, said that the enormous investment was based on "the medium- and long -erm development planning on Chinese railways" approved by the State Council, China's cabinet, Xinhua news agency said.
Nine new passenger express rail lines were among the investment projects that aim to get passenger trains running at speeds up to 300 kilometers an hour (180 miles an hour), the report said.
In July, China opened the doors for foreign and private capital to enter its railway industry to help fund its much-awaited network expansion.
At the time, the ministry said it was hoping to attract capital to meet the massive investment needed for a plan to extend the country's railway system from the existing 74,000 kilometers (46,000 miles) to 100,000 kilometers (62,000 miles) by 2020.
Zhang Jianping, vice director of the railway ministry's planning department, told China Daily earlier that the ministry also planned to invite bids for projects on passenger lines and container stations which are profitable.
To raise capital, Zhang said his ministry was also working on reorganizing some state-owned railway companies to list them on the stock market.
Experts cautioned that policies were still not in place to boost investor confidence that they will earn a profit.
For instance, the existing rail charge system allows no price fluctuation in line with market changes.
The country is largely dependent on railways for passenger and coal transport but the system has not been able to meet the rising demand brought about by rapid economic growth.
In related news, China's investment in commuter rail networks in its major cities is projected to reach nearly 20 billion yuan by the end of the 11th "5-year plan" in 2010, according to a Financial News report.
Citing sources, the report said China is currently the biggest market worldwide for urban rail construction with nine cities only having 400 kilometers (250 miles) of track in use by the end of February this year.
Chinese urban centers are increasingly becoming clogged with cars as commuters have few alternatives to travel due to the sparse urban rail network.
Investment in China's railway network was expected to top 100 billion yuan (12 billion dollars) alone in 2005 as the government pushed forward with plans to overhaul the creaking network, press reports said earlier.
The National Development and Reform Commission, China's top economic planning body, said that 58 new railroad projects would begin in 2005 while 48 initiated last year would be continued, Xinhua said.
| | |
| --- | --- |
| | |
| President Hu in Canada for visit | |

| | |
| --- | --- |
| | |
| Tree signals China-Canada friendship | |

| | |
| --- | --- |
| | |
| Hu begins Canada visit | |
Today's Top News
Top China News

China banks target public listings in 2006




Fireworks ban goes up in smoke in Beijing




President Hu praises China-Canada relations




Banker: Further RMB revaluation unnecessary




Katrina death toll may not hit 10,000




Hotshots gather for all-star China Open