Katrina death toll may not hit 10,000
(AP)
Updated: 2005-09-10 09:36
Alarming predictions of as many as 10,000 dead in New Orleans may have been greatly exaggerated, with authorities saying Friday that the first street-by-street sweep of the swamped city revealed far fewer corpses than feared, the Associated Press reported.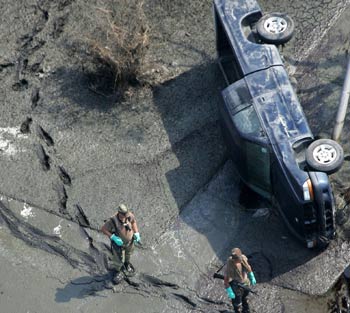 Military personnel walk through mud while searching door-to-door for survivors after floodwaters from Hurricane Katrina receded in Chalmette, near New Orleans, September 9, 2005. [Reuters]
"Some of the catastrophic deaths that some people predicted may not have occurred," said Col. Terry Ebbert, the city's homeland security chief.
He declined to give a revised estimate. But he added: "Numbers so far are relatively minor as compared to the dire projections of 10,000."
The encouraging news came as workers repairing New Orlean's system of levees and water pumps projected Friday that it will take a month to dry out the city ravaged by Hurricane Katrina.
Authorities officially shifted most of their attention to counting and removing the dead after spending days cajoling, persuading and all but strong-arming the living into leaving the city because of the danger of fires and disease from the fetid floodwaters.
Ever since the hurricane struck Aug. 29, residents, rescuers and cadaver-sniffing dogs have found bodies floating in the waters, trapped in attics or deft lying on broken highways. Some were dropped off at hospital doorsteps or left slumped in wheelchairs out in the open.
Mayor Ray Nagin suggested last weekend that "it wouldn't be unreasonable to have 10,000" dead, and authorities ordered 25,000 body bags. But soldiers who had been brought in over the past few days to help in the search were not seeing that kind of toll.
"There's nothing at all in the magnitude we anticipated," said Maj. Gen. Bill Caldwell, commander of the Army's 82nd Airborne Division.
Ebbert said the search for the dead will be done systematically, block-by-block, with dignity and with no news media allowed to follow along. "You can imagine sitting in Houston and watching somebody removed from your parents' property. We don't think that's proper," he said.
The U.S. Army Corps of Engineers said most of the city could be drained by Oct. 2, but some of the eastern areas of New Orleans and the hard-hit community of Chalmette, across the Mississippi River, could be under water until Oct. 8. Plaquemines Parish, which suffered a storm surge from the coast, could take another 10 days to drain.
The Corps had previously said it could take up to 80 days to drain the city. Friday marked the first time engineers offered detailed time tables.
The effort to get water out of the city, which had been 80 percent covered following the storm and levee breaches, was helped by dry weather and gaps blown in the levees to allow floodwaters to drain out.
Over the past few days, police and soldiers trying to rescue the living marked houses where corpses were found, or noted their location with global positioning devices, so that the bodies could be collected later.
A dozen boats awaiting calls to retrieve bodies were lined up early Friday on an interstate ramp that was being used as a makeshift boat launch. Soldiers also hauled the last of the bodies out of the convention center, which became an increasingly violent and chaotic place before the evacuees were finally removed a week ago.

| | |
| --- | --- |
| | |
| Post-Katrina New Orleans | |

| | |
| --- | --- |
| | |
| 12th APEC Finance Ministers Meeting | |

| | |
| --- | --- |
| | |
| Germany's Chancellor Gerhard Schroeder campaigning | |
Today's Top News
Top World News

China banks target public listings in 2006




President Hu praises China-Canada relations




Fireworks ban goes up in smoke in Beijing




Banker: Further RMB revaluation unnecessary




Katrina death toll may not hit 10,000




Hotshots gather for all-star China Open