Mubarak wins Egypt presidential vote
(Reuters)
Updated: 2005-09-10 09:02
President Hosni Mubarak won a fifth six-year term in Egypt's first contested presidential election, as expected, with 88.6 percent of the vote but turnout was very low at 23 percent.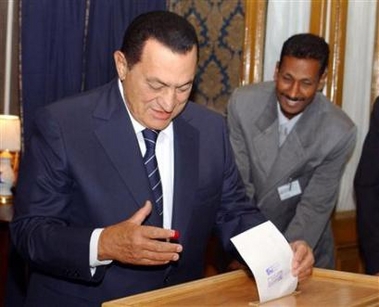 President Hosni Mubarak has won a fifth six-year term in Egypt's first contested presidential election, taking more than 80 percent of the vote in a low turnout, state newspapers said on Friday. President Mubarak (L) casts his vote, September 7, 2005. [Reuters]
Wednesday's race, in which Mubarak faced nine mostly little known rivals, was the first time Egyptians were able to choose between more than one presidential candidate.
The election enlivened political debate and led to scathing public criticism of Mubarak, but many Egyptians said they would not bother voting because the outcome was assured and they feared rigging by the government.
Mubarak's victory, announced by Presidential Election Commission chairman Mamdouh Marei, was widely forecast but the official turnout figure came as a surprise.
It was roughly in line, however, with assessments by independent monitors, who said the government had inflated the figures in past votes to lend them credibility.
"The commission decided unanimously that the candidate of the National Democratic Party (NDP), Hosni Mubarak, is the president of Egypt for the coming term, which starts from the day after the end of his current term as president," Marei said.
Mubarak's main rival, Ayman Nour of the liberal Ghad (Tomorrow) Party, won 7.6 percent of the vote and Wafd Party candidate Noman Gomaa was third with 2.9 percent. The percentages were based on valid votes counted.
Rights groups said there were widespread abuses on election day but not enough to invalidate the result.
Under the old system, parliament chose Mubarak as the sole presidential candidate and people voted in a yes-no referendum. He decided to change the system this year after the United States and domestic groups pressed for political change.
Mubarak, 77, has ruled Egypt since the 1981 assassination of Anwar Sadat. No president since 1952, when the military overthrew the monarchy, has left office via the ballot box.
BROTHERHOOD BARRED
Turnout was well below figures announced in previous votes. When Mubarak won his fourth six-year term by referendum in 1999, officials said 79 percent of registered voters took part.
Independent groups had estimated turnout at no more than 25 percent and some put it below 20 percent.
Asked if the turnout figure indicated more accurate official counting, Mubarak campaign spokesman Mohamed Kamal told Reuters: "This is a step forward ... This will continue in the future with (November) parliamentary elections and other elections."
On Nour's second place in the presidential vote, Kamal said: "One explanation is that he got some of the protest vote. Another explanation is I think the Muslim Brotherhood, many members, decided to vote for him."
The Brotherhood, Egypt's largest opposition group, could not field a candidate because the government has never allowed it to form a political party. Nour had said he would let the group form a party but the Brotherhood did not endorse any candidate.
The Ghad party disputed the 23 percent turnout figure, saying it was inflated to please the United States, which gives Egypt more than $1 billion in aid each year.
"I don't believe the turnout figure. They needed to get the congratulations from the White House," said Hisham Kassim, a senior Nour aide, told Reuters. He said Ghad would announce their figures but this did not mean they could have won.
The result confirmed Nour, the feisty young lawyer who ran the most vigorous campaign against Mubarak, as the leader of the secular opposition. His party is an offshoot of the Wafd Party, which dominated Egyptian politics before 1952.
The monitors and opposition said voting on Wednesday was marred by ballot stuffing, intimidation, vote buying and abuse of government vehicles, mainly by Mubarak's NDP.
The election commission, whose decisions are final, on Thursday rejected a request from Nour for a rerun.
Among world leaders to congratulate Mubarak were French President Jacques Chirac and Israeli Prime Minister Ariel Sharon. In 1979 Egypt became the first Arab state to make peace with Israel.

| | |
| --- | --- |
| | |
| 12th APEC Finance Ministers Meeting | |

| | |
| --- | --- |
| | |
| Germany's Chancellor Gerhard Schroeder campaigning | |

| | |
| --- | --- |
| | |
| Rescue continues in New Orleans | |
Today's Top News
Top World News

Fireworks ban goes up in smoke in Beijing




President Hu praises China-Canada relations




Hotshots gather for all-star China Open




Banker: Further RMB revaluation unnecessary




Hairy crabs get stamp of approval




Officer acquitted in beating of Chinese tourist