Cops set to forcibly clear out New Orleans
(AP)
Updated: 2005-09-09 18:35
Authorities said their sweep of this deluged city for the last voluntary evacuees was nearly complete, with officers ready to carry out the mayor's order to forcibly remove the thousands who remain in their homes.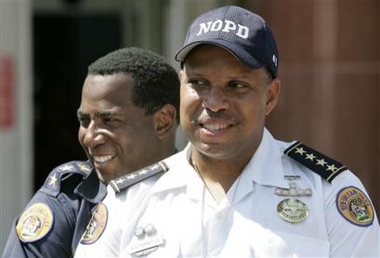 New Orleans police superintendent Eddie Compass, right, talks with reporters outside City Hall in New Orleans on Thursday, Sept. 8, 2005. At left is Assistant Superintendent Warren Riley. [AP]
"The ones who wanted to leave, I would say most of them are out," said Detective Sgt. James Imbrogglio.
Between 5,000 and 10,000 residents are believed left in the city, where toxic floodwaters have started to slowly recede but the task of collecting rotting corpses and clearing debris will likely take months.
Coast Guard Chief Petty Officer Jason Rule said his crew pulled 18 people from their homes Thursday. He said some of the holdouts did not want to leave unless they could take their pets.
"It's getting to the point where they're delirious," Rule said. "A couple of them don't know who they were. They think the water will go down in a few days."
Police Chief Eddie Compass said officers would use the "minimum amount of force" necessary to persuade those who remain to evacuate. Although no one was forcibly removed Thursday, some residents said they left under extreme pressure.
"They were all insisting that I had to leave my home," said Shelia Dalferes, who said she had 15 minutes to pack before she and her husband were evacuated.
"The implication was there with their plastic handcuffs on their belt. Who wants to go out like that?"
As searches for the living continued, the grim task of retrieving corpses intensified under the broiling sun. Officials raised the death toll in Louisiana to 118 Thursday, though New Orleans Mayor C. Ray Nagin has said up to 10,000 could be dead in that city alone. State officials have ordered 25,000 body bags.
Authorities are now faced with the challenge of how to identify bodies that may be bloated and decayed beyond recognition. At two collection sites, federal mortuary teams were collecting information that may help identify the bodies, such as where they were found. Personal effects were also being logged.
At the temporary morgue set up in nearby St. Gabriel, where 67 bodies had been collected by Thursday, the remains were being photographed and forensic workers hope to use dental X-rays, fingerprints and DNA to identify them.
Dr. Bryan Patucci, coroner of St. Bernard Parish, said it may be impossible to identify all the victims until authorities compile a final list of missing people.
Decaying corpses in the floodwaters could pose problems for engineers who are desperately trying to pump the city dry. While 37 of the 174 pumps in the New Orleans area were working and 17 portable pumps were in place Thursday, officials said the mammoth undertaking could be complicated by corpses getting clogged in the pumps.
"It's got a huge focus of our attention right now," said John Rickey of the Army Corps of Engineers. "Those remains are people's loved ones."
Some 400,000 homes in the city were also still without power, with no immediate prospect of getting it back. And fires continued to be a problem. At least 11 blazes burned across the city Thursday, including at historically black Dillard University where three buildings were destroyed.
Also Thursday, Congress rushed through an additional $51.8 billion for relief and recovery efforts and President Bush pledged to make it "easy and simple as possible" for uprooted storm victims to collect food stamps and other government benefits.
In an attempt to stem the criticism of the slow federal response to the disaster, Vice President Dick Cheney also toured parts of the ravaged Gulf Coast, claiming significant progress but acknowledging immense obstacles remained to a full recovery.
Meanwhile, Democrats threatened to boycott the naming of a panel that Republican leaders are proposing to investigate the administration's readiness and response to the storm. Senate Democratic leader Harry Reid said it was like a baseball pitcher calling "his own balls and strikes."
Democrats have urged appointment of an independent panel like the Sept. 11 commission.
Confusion continued to be a problem in many areas:
@Louisiana Gov. Kathleen Blanco said that radio equipment and portable generators she requested from the federal government a week ago had yet to arrive. Federal officials said they were tracking down the status of the items.
@In Houston, hundreds of storm victims waited for hours to pick up debit cards for cash that had been promised by relief agencies. By noon Thursday, so many people had jammed the entrance to the sign-up area that some were overcome by the heat and police were summoned.
| | |
| --- | --- |
| | |
| 12th APEC Finance Ministers Meeting | |

| | |
| --- | --- |
| | |
| Germany's Chancellor Gerhard Schroeder campaigning | |

| | |
| --- | --- |
| | |
| Rescue continues in New Orleans | |
Today's Top News
Top World News

China gains ground on UN list of developed nations




Officer acquitted in beating of Chinese tourist




Putin: oil pipeline will serve China first




China to expand relations with Canada: Hu




ADB: China economy to grow 9.2% this year




Showbiz opens up to foreign investors