US officer acquitted in beating of Chinese tourist
(AP)
Updated: 2005-09-09 11:21
BUFFALO, N.Y. - A U.S. border officer was acquitted Thursday of violating a Chinese tourist's civil rights when he pushed her head into the pavement and pepper-sprayed her at the U.S.-Canada border.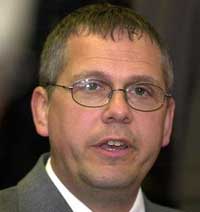 Customs and Border Protection Officer Robert Rhodes speaks to the media at a news conference after the verdict, from the U.S. Federal Courthouse in Buffalo, N.Y., September 8, 2005. [AP]

Government prosecutors claimed Homeland Security officer Robert Rhodes used excessive force against Zhao Yan, 38, a businesswoman from Tianjin who was touring Niagara Falls in July 2004.

Rhodes told investigators he believed the woman might have been associated with a drug suspect and ordered her inside the Niagara Falls inspection station, but she took off running.

He said he followed proper Customs and Border Protection procedure in subduing the struggling woman and denied striking her or slamming her face to the ground by her hair.

"I feel that I was vindicated and now I can put my life back together," Rhodes said at his attorney's office after leaving the courthouse under the protection of federal marshals.

The case provoked anger in China after pictures of Zhao, her face swollen from pepper spray and her eyes and forehead bruised, were widely published.

Defense attorney Steven Cohen said Rhodes would like to return to the job he has held for 17 years.





| | |
| --- | --- |
| | |
| Paris Hilton turns happy homemaker | |

| | |
| --- | --- |
| | |
| Olympics themed jetliner ascends into the sky | |

| | |
| --- | --- |
| | |
| Best and worst dressed 2005 | |
Today's Top News
Top Life News

China gains ground on UN list of developed nations




Officer acquitted in beating of Chinese tourist




Putin: oil pipeline will serve China first




China to expand relations with Canada: Hu




ADB: China economy to grow 9.2% this year




Showbiz opens up to foreign investors