Kwan's 'Regret' brings Shanghai glamour to Venice
(AP)
Updated: 2005-09-09 13:18
Hong Kong director Stanley Kwan's "Everlasting Regret" brought Old Shanghai glamour to Venice on Thursday with a tale of bitterness and unrequited love, as the film festival wound down ahead of its weekend awards.
The only Chinese film competing for Venice's top Golden Lion prize follows the life of a celebrated beauty as she slides from the glittering dance floors of exclusive 1940s ballrooms to a wistful, proletarian existence.
Pop diva Sammi Cheng, who made her movie debut with romantic comedy "Feel 100%," plays Qiyao, the enthralling woman whose entry into a "Miss Shanghai" contest catapults her into the arms of a nationalist officer, until the political wind changes.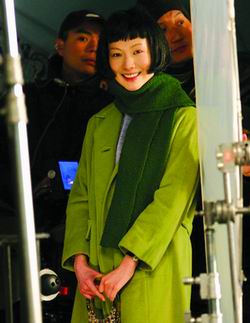 Hong Kong singer and actress Sammi Cheng plays the role of adult Wang Qiyao in Stanley Kwan's "Everlasting Regret." [baidu]


To a soundtrack of big-band swing and popular Chinese tunes, Qiyao struggles with aging, the departure of her loved ones and her tormented emotions, while trying to keep her dignity intact.

Mr Cheng, the photographer friend who accompanies Qiyao through her roller-coaster life, is played by Tony Leung Ka Fai, a veteran actor best known in Europe for his role in the 1992 film "L'Amant."

Shot mostly inside the characters' chic Shanghai homes and later squalid apartments, the visually rich film is an adaptation of Wang Anyi's popular novel "Changhen Ge."

One of few openly gay directors in Asia, Kwan made his name abroad with "Rouge" in 1987. In 2001, he completed the ground-breaking "Lan Yu," based on an anonymous Internet text about a businessman and a college boy who fall in love after a one-night stand in Beijing.

He is one of Hong Kong's biggest names along with Wong Kar-Wai, director of the acclaimed "In the Mood for Love" and "2024," close in color and texture to Kwan's offerings.

"Everlasting Love" joins a range of Asian films presented at the Venice Lido, both in and out of competition. After Tsui Hark's epic "Seven Swords" kicked off the festival, the closing honor will go to Peter Ho-sun Chan's "Perhaps Love."

Also showing on Thursday is the sepia-tinted "Garpastum" by young Russian director Alexei German Jr, the story of two brothers, their love for football and the spirit of St. Petersburg before the Russian Revolution.

Italian filmmaker Cristina Comencini presents her "La Bestia nel Cuore," the second of three Italian films in competition following Roberto Faenza's "I Giorni dell'Abbandono," which earlier this week met both derision and applause.




| | |
| --- | --- |
| | |
| Paris Hilton turns happy homemaker | |

| | |
| --- | --- |
| | |
| Olympics themed jetliner ascends into the sky | |

| | |
| --- | --- |
| | |
| Best and worst dressed 2005 | |
Today's Top News
Top Life News

Siberian oil pipeline to go to China first: Putin




China to expand relations with Canada: Hu




ADB: China economy to grow 9.2% this year




Showbiz opens up to foreign investors




Officer acquitted in beating of Chinese tourist




Wu : Co-operation crucial for peace