Shelters for pets fill with furry survivors after Katrina
(The New York Times)
Updated: 2005-09-09 09:22
HOUSTON -- Peter, a yellow cockatiel, came through the door of the Houston animal shelter from New Orleans perched on his owner's finger. With pets barred from the bus trip, Lola, a green parrot, made it hidden inside her owner's bra. And the Great Dane? Well, no one is quite sure about him.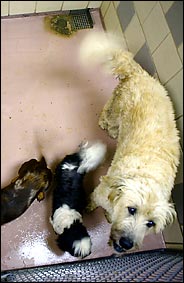 Dogs that came to the Houston S.P.C.A. together were kept together. [Misty Keasler for The New York Times]

"It's become our disaster by default," said Patricia E. Mercer, the president of the Society for the Prevention of Cruelty to Animals here.

In addition to untold numbers of pets killed, animals made homeless by the hurricane are wandering hungry and confused throughout the Gulf Coast.

Wayne Pacelle, president and chief executive of the Humane Society of the United States, said, "In New Orleans alone, we think there are 50,000 pets."

Jane Garrison, who is working with a Humane Society rescue team in New Orleans, said her best rescue was on Wednesday, when she heard a dog's cries and looked up to see a Labrador mix marooned on the second-story awning of a house that was completely crumbled.

"We went up by ladder and threw a leash around her neck," Ms. Garrison said. "She jumped down into my partner's arms and immediately started licking her."

The Houston S.P.C.A. sent a staff member along with six members of Florida's Broward County chapter to New Orleans to pick up homeless animals. "Hundreds of people, if not thousands around the country, are working to save animals," Ms. Mercer said. Louisiana State University has 300 animals, she said, and 500 are being housed in Gonzales, La.

Jacque Meyer, executive director of the Greater Birmingham Humane Society who is in Jackson, Miss., to help, said 30 dogs from the Gulfport, Miss., region whose owners were killed were rounded up on Tuesday.

Some groups, like the North Shore Animal League on Long Island, have helped by taking animals previously held in shelters in the hurricane areas to make room for more animals, Ms. Meyer said.

The effort to find animals can be slow and sometimes unpredictable, said Dino Vlachos, an animal rescuer from Atlanta who is in New Orleans.

"We just completed a rescue off the French Quarter where we were told there were 62 cats," Mr. Vlachos said Wednesday. "But when we got there we found 62 birds and two goats."

He estimates that they have picked up 200 dogs and 250 cats since Monday. "But we need help," he said. To join the effort, volunteers have to register with the Humane Society at 1-800-HUMANE (1-800-486-2631).

Mr. Pacelle said: "The clock is ticking. We've had 2,000 calls from people who have left their pets behind. We're too late for some, but we may be just in time for others."

Mr. Pacelle said the Humane Society was "not getting the help we need from local, state and the federal government."

"There are policemen and firemen out there who want to help," he said, "but the order on high is to help people, not pets. Three days from now, there will be massive die offs."

Initially, the society's efforts were directed at picking up animals at the Houston Astrodome, and 400 owned animals at the Houston shelter now, Ms. Mercer said, were picked up by volunteers who met rescue buses at the Astrodome, Reliant Park and the George R. Brown Convention Center. The center has taken in animals from evacuees who found the shelter on their own.

Patricia Simmons, 47, a nurse from New Orleans, was one of them. Ms. Simmons stood in the lobby of the shelter on Monday holding a leash without a dog attached to it. She and her roommate, Deneen Taylor, had just bid a bittersweet goodbye to their dogs, Tiffany, 11m a Rottweiler-Doberman mix, and Cocoa, 1, a chow, because there was no room for them at Ms. Taylor's family home in Houston.

Nettie Hock was also at the S.P.C.A. with her mother, also named Nettie Hock, and her brother, Raymond. The family had come to visit Tanya, their 3-year-old bright-eyed Pekingese who was soon to be given a foster home by Michael Stanley, a lawyer from Sugar Land; his wife, Terrice; and their three children. The Stanleys met the family while they were volunteering at the Astrodome and were struck by how traumatized the elderly Mrs. Hock was without her beloved dog.

"She was sitting there in suspended animation," Mr. Stanley whispered, shaking his head.

Ms. Mercer said the shelter was close to its capacity of 800 animals. Three off-site overflow centers are open, and the group is working with others around the country to find space.

Although none of the pets who have owners will be put up for adoption, the shelter hopes to find foster homes for the animals where they can be cared for until their owners are able to take them back.

In the meantime, accounts trickle in of how pets and their owners escaped the wrath of the storm. A woman who came to claim her chow told Ms. Mercer, "We swam out together, and she didn't give up on me, and I'm not giving up on her."




| | |
| --- | --- |
| | |
| Paris Hilton turns happy homemaker | |

| | |
| --- | --- |
| | |
| Olympics themed jetliner ascends into the sky | |

| | |
| --- | --- |
| | |
| Best and worst dressed 2005 | |
Today's Top News
Top Life News

Siberian oil pipeline to go to China first: Putin




China to expand relations with Canada: Hu




ADB: China economy to grow 9.2% this year




Showbiz opens up to foreign investors




Wu : Co-operation crucial for peace




Bush suffers in polls post-Katrina