Paris Hilton turns happy homemaker
(Reuters)
Updated: 2005-09-09 09:14
LOS ANGELES (Reuters) - Paris Hilton is happy with tycoon fiance Paris Latsis, settling down to a quieter life and thinking about having a baby -- but first she wants a new $2 million engagement ring.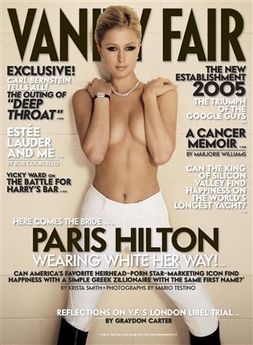 Paris Hilton is seen on the cover of the October issue of Vanity Fair, which hits newsstands in New York September 7, 2005 and will be available nationally in the U.S. on September 13.[Reuters]

Hilton, 24, told Vanity Fair magazine, in an issue that hit New York newsstands on Wednesday, that she is over the sex tape of two years ago and has abandoned the "nightclub scene" for home-cooked meals and nights at home in Beverly Hills.

The hotel heiress, TV star, movie actress, author, model and perfume purveyor also told the magazine that she wants to have a baby within two years.

"I'm so happy. It's cool," she says of her life with Paris Kasidokostas, also known as Paris Latsis, heir to a billion-dollar fortune built on Greek shipping and oil.

"He's just amazing ... Every day I'm like, 'This is not real,' I thought I was just going to settle, and end up with some jackass," Paris told the magazine, which lands on U.S. newsstands on September 13.

But she was not happy with the engagement ring Kasidokostas gave her, so a new, 24-carat emerald-cut diamond ring estimated to cost $2 million has been ordered, Vanity Fair said.

"I like it," Hilton said of the first ring, "but it's yellow, and I'm like, I didn't want yellow for my engagement ring."

Hilton is no longer as embarrassed as she once was by the sex tape made when she was 19 by then-boyfriend Rick Salomon. The tape first appeared on the Internet in 2003 and later landed in stores with the title, "1 Night in Paris."

"I used to think it was so bad, but it's like, everyone has sex. I'm sure everyone has filmed a tape," she said.

"I don't even really remember filming it. I was so out of it in that tape," she said, adding that her parents were "heartbroken and humiliated" by the incident.

Hilton said the party life is no longer for her. "The nightclub scene is a very dark, bad scene," she says. Kasidokostas "loves me and likes staying home with our dogs and me cooking."

The couple plan two weddings -- one in Los Angeles and another in Greece -- but no date has been set.




| | |
| --- | --- |
| | |
| Paris Hilton turns happy homemaker | |

| | |
| --- | --- |
| | |
| Olympics themed jetliner ascends into the sky | |

| | |
| --- | --- |
| | |
| Best and worst dressed 2005 | |
Today's Top News
Top Life News

Siberian oil pipeline to go to China first: Putin




China to expand relations with Canada: Hu




ADB: China economy to grow 9.2% this year




Showbiz opens up to foreign investors




Wu : Co-operation crucial for peace




Bush suffers in polls post-Katrina