Bush suffers in polls post-Katrina
(Reuters)
Updated: 2005-09-09 06:50
WASHINGTON - President George W. Bush's image suffered in public opinion polls taken after Hurricane Katrina hit the U.S. Gulf Coast, with some finding growing doubts about his leadership and the country's direction. Reuters reported.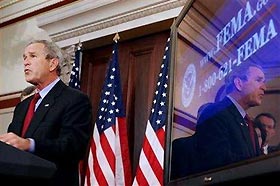 U.S. President George W. Bush is reflected in a monitor as he announces measures to provide more aid to families displaced by Hurricane Katrina September 8, 2005 in Washington. [Reuters]

After a week of criticism for a slow response to the devastation caused by Katrina, polls released on Thursday registered drops in Bush's approval ratings and in confidence in his leadership.

A Pew Research Center poll found 67 percent of Americans believed Bush could have done more to speed up relief efforts, and just 28 percent believed he did all he could. His approval rating slipped to 40 percent, down four points since July to the lowest point Pew has recorded.

The Pew poll also found a shift in public priorities after Katrina caused a jump in gasoline prices last week, with a majority saying for the first time since the September 11, 2001, attacks that it was more important for Bush to focus on domestic policy than the war on terrorism.

"Americans are depressed, angry and very worried about the economic consequences of the disaster," said Andrew Kohut, director of the Pew poll.

A WEEK OF CRITICISM

The new polls indicated a week of criticism and political finger-pointing over who is to blame for the disastrous response to Katrina could have taken a toll on the White House.





| | |
| --- | --- |
| | |
| Germany's Chancellor Gerhard Schroeder campaigning | |

| | |
| --- | --- |
| | |
| Rescue continues in New Orleans | |

| | |
| --- | --- |
| | |
| Egyptian presidential election campaigns conclude | |
Today's Top News
Top World News

Siberian oil pipeline to go to China first: Putin




China to expand relations with Canada: Hu




ADB: China economy to grow 9.2% this year




Showbiz opens up to foreign investors




Wu : Co-operation crucial for peace




Bush suffers in polls post-Katrina