Six-party talks set to resume next week
By Hu Xiao (China Daily\Agencies)
Updated: 2005-09-09 05:53
The Six-Party Talks aimed at ending the nuclear stand-off on the Korean Peninsula will resume on Tuesday in Beijing, the Foreign Ministry announced yesterday.
The second phase of the fourth round of the talks will begin after consultations with related parties, ministry spokesman Qin Gang said.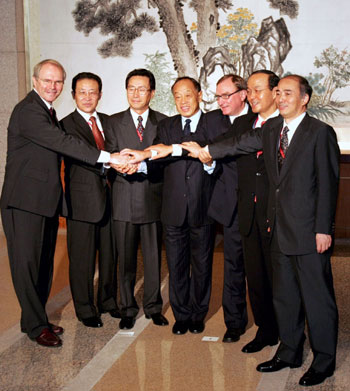 The representatives from the six countries involved in six-party talks on North Korea's nuclear program hold hands as the meeting officially begins in Beijing July 26, 2005. [Reuters]

The parties are China, the Democratic People's Republic of Korea (DPRK), the United States, the Republic of Korea (ROK), Russia and Japan.

At the first phase of talks, held in late July and early August, the participating countries agreed to open the second phase on the week of August 29.

Qin did not explain the reason for the two-week delay, but stressed that any decision could be made only after all related parties reached consensus.

At the end of the first phase, the parties reached an understanding on the need to refrain from saying or doing anything obstructive to the resumption of the talks during the recess.

However, Pyongyang claimed that Washington "insulted its dialogue partner" by holding a military exercise, known as "Ulji Focus Lens-05," with the ROK, and claimed it was targeted against the DPRK.





| | |
| --- | --- |
| | |
| Germany's Chancellor Gerhard Schroeder campaigning | |

| | |
| --- | --- |
| | |
| Rescue continues in New Orleans | |

| | |
| --- | --- |
| | |
| Egyptian presidential election campaigns conclude | |
Today's Top News
Top World News

Siberian oil pipeline to go to China first: Putin




China to expand relations with Canada: Hu




ADB: China economy to grow 9.2% this year




Showbiz opens up to foreign investors




Wu : Co-operation crucial for peace




Bush suffers in polls post-Katrina