Mubarak leads Egypt presidential election
(AP)
Updated: 2005-09-08 20:48
President Hosni Mubarak took an overwhelming early lead in his country's first-ever contested presidential race, an election commission official said Thursday, in a ballot marred by low turnout and widespread reports of voter intimidation.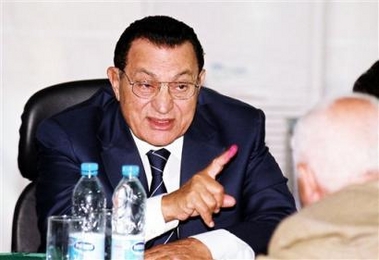 Hosni Mubarak, leader of the ruling National Democratic party, talks to his party officials at the operation room of his party campaign in Cairo, Egypt, Wednesday, Sept.7, 2005. Ten candidates run in the country's first ever multi-candidate presidential elections, including veteran President Hosni Mubarak. Mubarak's finger was dipped in indelible ink to indicate that he has voted . [AP]
With all of the votes counted in half of the country's polling stations, Mubarak had at least 70 percent of the vote, said the electoral commission official, who spoke on condition of anonymity because he was not authorized to divulge results. The remaining votes were shared between the two principal challengers, Ayman Nour of the al-Ghad Party and Noaman Gomaa of the Wafd Party, the official said.
A Mubarak win has long been forecast, and for many, the process of Wednesday's election was more important than the results. The poll tested the government's commitment to reform and the U.S. push for greater democracy in the Middle East.
The government had promised a clean vote, but polling was marred by widespread reports of pressure and intimidation for voters to support Mubarak.
The election also suffered from low turnout. The authorities did not give an official figure, but the electoral commision official said turnout was about 30 percent. The same percentage was given Thursay by an official in Mubarak's campaign headquarters, who also spoke anonymously. Several independent monitoring groups said during Wednesday's polling that turnout appeared poor.
If that figure holds, and it turns out that 70 percent of the country's 32 million registered voters did not take part, it would indicate that most Egyptians did not have much faith in the election to vote.
Opposition party members, human rights monitors and citizens told The Associated Press that some poll officials in Luxor and other towns instructed voters to choose Mubarak. In Cairo and Alexandria, supporters of the ruling National Democratic Party promised food or money to poor people if they voted for Mubarak, voters said.
Nour, the leading opposition candidate, charged the elections "are not fair at all," and vowed to reject rigged results.
The government played down reports of problems, saying they did not diminish what they called a major step toward democracy.
"There may be some comments, maybe some violations happened, but we have to agree that we're seeing an experience that we can build on for a future that realizes more freedom and more democracy in the Egyptian society," Information Minister Anas al-Fiqi told reporters after polls closed late Wednesday night.
The electoral commission official and the Mubarak campaign officer said that as counting was proceeding faster than expected, final results would probably be announced Friday rather than Saturday.
In Washington, State Department spokesman Sean McCormack said the U.S. government was following the election closely and called the vote "a beginning."
"These elections really mark a historic departure for Egypt, in the fact that you have multicandidate presidential elections. I think it's safe to say that Egyptians have not seen a presidential election like the one they have just seen in their lifetimes," he told reporters.
The 77-year-old Mubarak has ruled Egypt for 24 years, re-elected in referendums in which he was the only candidate
His government has said the contested election will open the door to more democratic reforms, but many have been skeptical he will really loosen his grip on power. Most major opposition parties boycotted the vote, saying he held an unfair advantage in the polls because of his government's domination of politics.
In one clear sign of the changes sweeping Egypt, more than 3,000 people marched through downtown Cairo at midafternoon to protest against Mubarak ¡ª by far the largest crowd ever drawn by the group Kifaya, or "Enough" in Arabic. Police watched from a distance despite government vows to block protests. Two demonstrators were beaten by government supporters.
Many Egyptians say what they really hope for is change without disruption, crisis or violence, leading to better jobs and more opportunities in the economically ailing country of 72 million people.
Ahmed Muhieddin el-Baz, a government engineer, said he backed Mubarak because of his "accomplishments, and at the same time, none of the competitors is stronger than him."
Mahmoud Youssry, a Cairo resident, said he wanted to vote for Nour "even if he's bad. At least we would have broken the barrier of fear."
There were widespread charges of voter fraud and intimidation ¡ª though not the level of violence and flagrant rigging that have marred parliamentary votes.
The Egyptian Organization for Human Rights, which formed a coalition with other groups to put monitors at polls, said ruling party officials were allowed into some polling stations in Alexandria and forced voters to choose Mubarak.
In Beni Suef, 60 miles south of Cairo, NDP officials threatened to cut some people's monthly pensions if they didn't vote for the president, the group said. It said an NDP official in a poor Cairo neighborhood gave women nearly $10 each to vote for Mubarak.
In the southern town of Luxor, 300 miles from Cairo, university student Ahmed Mohammed Ahmed Ali said a poll worker told him he couldn't vote unless he had an NDP-issued voting card. When Ali insisted on voting, "he told me that I must vote for Mubarak or no one else," Ali said.
Osama Attawiya, spokesman for the country's election commission, said the panel had received no major complaints or reports of problems.
And a top official in the opposition Wafd party, El-Sayed el-Badawy, said that while fraud and intimidation were apparent, "This is the first time for a president to reach out to the citizens and ask for their support. This is a positive thing."
| | |
| --- | --- |
| | |
| Germany's Chancellor Gerhard Schroeder campaigning | |

| | |
| --- | --- |
| | |
| Rescue continues in New Orleans | |

| | |
| --- | --- |
| | |
| Egyptian presidential election campaigns conclude | |
Today's Top News
Top World News

Siberian oil pipeline to go to China first: Putin




N. Korea nuclear talks to resume Sept 13




President Hu due in Canada for visit




Japanese encephalitis kills 53 in India




Concerns grow about toxic floodwaters




Probe: U.N. unable to run large program