Chinese farmers remain marginalized economically
By Echo Shan (chinadaily.com.cn)
Updated: 2005-09-08 16:45
The National Bureau of Statistics vice director said he was "shocked" by the 10-year gap between the quality of life of urban residents and farmers -- the dominant force of China's gigantic 1.3 billion population, China Youth Daily reported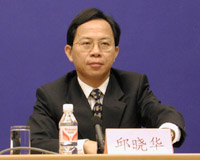 Qiu Xiaohua, the deputy director of China's Bureau of Statistics, was shocked by a 10-year gap between the quality of life of urban residents and farmers. [baidu]

"Generally speaking, the overall consumption power of the huge farming population still lingers at the early 1990's stage of their city counterparts. The gulf has yet to be bridged," Qiu Xiaohua, the bureau's deputy director said at the ongoing "the 21st Century Forum" being held in Beijing.

"It's not so beyond the imagination that, generally speaking, China's city population are much better off than their rural siblings," said a netizen speaking out on one of the nation's most popular news portals, Sina. "We prefer concrete measures to better farmers' lives over appalled officials. "

The income gap between city dwellers and farm workers has widened on and on since the year 1997. During the seven years through 2004, rural people's annual incomes per capita increased by 6.8 per cent to 2,936 yuan (about US$350) on average, nearly a quarter of the income of urban people.

These scanty earnings have also dragged down the education status in rural areas far behind cities, with farmers unable to send their children to school.

Only 10 per cent of rural people are now under the nation's social welfare umbrella for free medication, which, by contrast, covers some 40 per cent of city residents.

The life of farmers who mainly feed themselves off of what they grow has gotten even worse with the nation's persistent contractions in its expenditures on agriculture. The money earmarked for the agriculture development in 2003 shrank by nearly 7 per cent compared with that of 1978.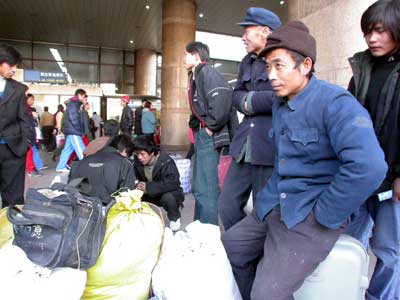 Migrant workers from rural areas await trains outside a trian station. They leave for cities in the hope to gain a better life. [newsphoto/file]


China has more than 800 million farmers, or nearly 60 per cent of its huge 1.3 billion population. Through last year, 26.1 million rural people were still fighting against absolute poverty and 50 million were living at the least sustainable level, officials estimate.

Such embattled living conditions for the nation's vast farming population have long been under the spotlight as relative administrations have spared no efforts to change the situation.

On the heels of the early 2005 annulment of agriculture taxes, the Ministry of Education is now mulling an overall exemption of education fees in underprivileged rural areas.

"Compulsory education will be completely free in the countryside by the end of the year," Zhang Baoqi, vice minister of the ministry, said on Aug. 29.




| | |
| --- | --- |
| | |
| Paris Hilton turns happy homemaker | |

| | |
| --- | --- |
| | |
| Olympics themed jetliner ascends into the sky | |

| | |
| --- | --- |
| | |
| Best and worst dressed 2005 | |
Today's Top News
Top Life News

Putin: Siberian oil pipeline will serve China first




China to expand relations with Canada: Hu




ADB: China economy to grow 9.2% this year




Showbiz opens up to foreign investors




Officer acquitted in beating of Chinese tourist




Wu : Co-operation crucial for peace