NBA stars to play in Katrina relief game
(AP)
Updated: 2005-09-08 15:11
LeBron James, Kobe Bryant, Dwyane Wade, Kevin Garnett and other NBA stars will play in a game Sunday in Houston to benefit Hurricane Katrina relief efforts.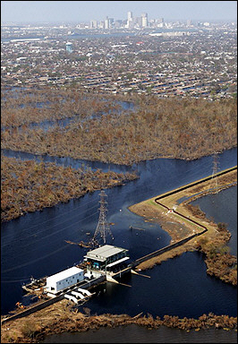 water pumping station is shown in the aftermath of Hurricane Katrina in this aerial view in St. Bernard Parish near New Orleans, Louisiana. The greatest health risk in the aftermath of Hurricane Katrina is a possible outbreak of gastro-intestinal disease in shelters, not the 'toxic gumbo' of New Orleans, a medical expert said. [AFP]

TNT basketball analyst Kenny Smith organized the game at the Toyota Center. It will start at 5 p.m. EDT and will air on TNT at 11 p.m. EDT.

Organizers said Wednesday that participating players will donate money and supplies valued at more than $1 million to aid Katrina victims. Players are scheduled to hand out truckloads of supplies to shelters across the city before the game.

Other players set to play include: Steve Francis, Sam Cassell, Jermaine O'Neal, Ron Artest, Stephon Marbury, Chauncey Billups, Paul Pierce, Lindsey Hunter, Alonzo Mourning, Charles Oakley, Antonio McDyess, Amare Stoudemire and Derrick Coleman.

In other Katrina developments:

_Major League Baseball will match the total fan contributions up to $1 million from "pass the hat" programs at games Wednesday. Major League Baseball, which joined the players' association with a $1 million donation last week, is expected to raise more than $3 million. Players had American Red Cross decals on their batting helmets and a phone number for donations appeared on the sides of the bases.

The Katrina relief effort coincides with the annual league-wide celebration of Roberto Clemente Day, established in 2002 to honor the memory of the Hall of Fame player who died in a plane crash while delivering supplies to earthquake victims in Nicaragua on New Year's eve in 1972.

_Tennis player Dominik Hrbaty's pink peek-a-boo shirt is one of several items that will be auctioned off on http://www.TennisKatrina.com to benefit the American Red Cross.

Hrbaty caused a stir at the U.S. Open with his shirt, which has oval-shaped cutouts below each shoulder and resembles a peek-a-boo bra.

Among the other items up for bid are Serena Williams' $40,000 platinum-and-diamond chandelier earrings; rackets from Williams, Roger Federer, Mary Pierce and Justine Henin-Hardenne; shoes from Rafael Nadal and Venus Williams; and clothing from Maria Sharapova, Kim Clijsters and Andy Roddick.

The U.S. Tennis Association announced earlier it would donate $500,000 from U.S. Open proceeds to the American Red Cross.

_A flood victim threw out the ceremonial first pitch Wednesday night at RFK Stadium before the Florida Marlins played the Washington Nationals.

Benjamin Camp, who lived in New Orleans, is one of about 250 evacuees staying at the adjacent D.C. Armory. The 20-year-old Camp was accompanied on the field by his father and brother-in-law. Other members of their family, including Camp's 2-year-old child, were evacuated to Houston.

Meanwhile, all six Washington pro sports teams announced a fund-raising drive. Players from the Nationals, Redskins, Wizards, Capitals, D.C. United and Mystics will be stationed in a parking lot at RFK on Friday to accept cash donations on behalf of the Red Cross. Wizards owner Abe Pollin kick-started the effort with a $100,000 donation.

Redskins owner Dan Snyder announced a $500,000 donation this week and said there will be collection points at all of the team's home games this season.

_The NHL and its players' association will donate $1 million to the American Red Cross, and also will raise money through an auction of opening-night jerseys.

_Miami Dolphins coach Nick Saban's wife will lead a collection campaign outside the stadium before the season-opening game Sunday against Denver. Saban coached at Louisiana State for five years before joining the Dolphins in December.

"We're there to show our sympathy," Terry Saban said. "We're there to show our support and that we care. Whatever gift you give is going to be appreciated."

_Former welterweight champion Vernon Forrest is paying for housing in Atlanta for five New Orleans families left homeless. Forrest's donation of more than $6,000 in a telethon drive will provide monthlong stays for the families in a hotel.




| | |
| --- | --- |
| | |
| Zhao Ruirui starts college life | |

| | |
| --- | --- |
| | |
| Gianluigi Buffon and Alena Seredova | |

| | |
| --- | --- |
| | |
| Steffi Graf and Jaden Gil Agassi | |
Today's Top News
Top Sports News

Siberian oil pipeline to go to China first: Putin




China to expand relations with Canada: Hu




ADB: China economy to grow 9.2% this year




Showbiz opens up to foreign investors




Wu : Co-operation crucial for peace




Bush suffers in polls post-Katrina