Cops, troops warn holdouts in New Orleans
(AP)
Updated: 2005-09-08 15:01
NEW ORLEANS - Using the unmistakable threat of force, police and soldiers went house to house Wednesday to try to coax the last 10,000 or so stubborn holdouts to leave storm-shattered New Orleans because of the risk of disease from the putrid, sewage-laden floodwaters.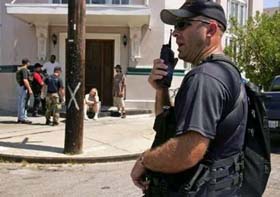 A Dublin (Ohio) police officer speaks into radio during a patrol in the Bywater neighborhood, advising residents of an impending forced evacuation September 7, in New Orleans September 7, 2005. [Reuters]

"A large group of young armed men armed with M-16s just arrived at my door and told me that I have to leave," said Patrick McCarty, who owns several buildings and lives in one of them in the city's Lower Garden District. "While not saying they would arrest you, the inference is clear."

A frail-looking 86-year-old Anthony Charbonnet grumbled as he locked his front door and walked slowly backward down the steps of the house where he had lived since 1955.

"I haven't left my house in my life," he said as soldiers took him to a helicopter. "I don't want to leave."

Mayor C. Ray Nagin ordered law officers and the military late Tuesday to evacuate all holdouts — by force if necessary. He warned that the combination of fetid water, fires and natural gas leaks after Hurricane Katrina made it too dangerous to stay.

In fact, the first government tests confirmed Wednesday that the amount of sewage-related bacteria in the floodwaters is at least 10 times higher than acceptable safety levels. Dr. Julie Gerberding, chief of the Centers for Disease Control and Prevention, warned stragglers not to even touch the water and pleaded: "If you haven't left the city yet, you must do so."

There were no reports of anyone being removed by force. And it was not clear how the order would be carried out.





| | |
| --- | --- |
| | |
| Germany's Chancellor Gerhard Schroeder campaigning | |

| | |
| --- | --- |
| | |
| Rescue continues in New Orleans | |

| | |
| --- | --- |
| | |
| Egyptian presidential election campaigns conclude | |
Today's Top News
Top World News

Siberian oil pipeline to go to China first: Putin




US$3.7b loan to help Taiwan-funded firms




EU backs textile deal, Denmark slams quotas




Chinese aid for Katrina victims on its way




Cops, troops warn holdouts in New Orleans




President Hu due in Canada for visit