Schwarzenegger vows gay marriage bill veto
(AP)
Updated: 2005-09-08 09:25
Gov. Arnold Schwarzenegger announced Wednesday that he will veto a bill that would allow gay marriages in California.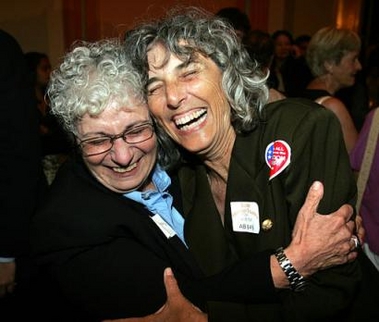 Shelly Bailes, left, and her partner of 31 years, Ellen Pontac celebrate after the state Assembly passed a same-sex marriage bill at the Capitol in Sacramento, Calif., Tuesday, Sept. 6, 2005. By a 41-35 vote the Assembly approved Assemblyman Mark Leno's, D-San Francisco, bill making the California Legislature the first legislative body in the country to allow same-sex marriages. The measure was approved last week by the state Senate and needs Gov. Arnold Schwarzeneggers signature to become law. [AP]


Schwarzenegger said the legislation, given final approval Tuesday by lawmakers, would conflict with the intent of voters when they approved a ballot initiative five years ago. Proposition 22 prevents California from recognizing same-sex marriages performed in other states or countries.

"We cannot have a system where the people vote and the Legislature derails that vote," the governor's press secretary, Margita Thompson, said in a statement. "Out of respect for the will of the people, the governor will veto (the bill)."

Despite his promised veto, Schwarzenegger "believes gay couples are entitled to full protection under the law and should not be discriminated against based upon their relationship," the statement said.

"He is proud that California provides the most rigorous protections in the nation for domestic partners," it added.

The Republican governor had indicated previously that he would veto the bill, saying the debate over same-sex marriage should be decided by voters or the courts.

A state appeals court is weighing an appeal of a San Francisco judge's ruling striking down state laws barring gay marriages. Meanwhile, opponents of same-sex marriages are planning measures on the ballot next year that would place a ban on gay marriages in the state constitution.

The announcement dampened a celebratory mood among the bill's supporters, who only the night before cheered, hugged and kissed as the state Assembly narrowly sent the bill to the governor's desk.

Democratic Assemblyman Paul Koretz had called bans on gay marriage "the last frontier of bigotry and discrimination."

The bill passed the Legislature through the persistence of its sponsor, Assemblyman Mark Leno, an openly gay Democrat from San Francisco. His original bill failed in the Assembly by four votes in June, but he then tied it to another bill in the Senate, which voted to approve it last week.

It was that amended bill the Assembly passed by a bare majority on Tuesday. Four Democrats who did not vote on the bill in June provided the winning margin this week.

The vote made the California Legislature the first legislative body in the country to approve same-sex marriage. Gay marriage licenses in Massachusetts and civil unions in Vermont were granted through court rulings.





| | |
| --- | --- |
| | |
| Paris Hilton turns happy homemaker | |

| | |
| --- | --- |
| | |
| Olympics themed jetliner ascends into the sky | |

| | |
| --- | --- |
| | |
| Best and worst dressed 2005 | |
Today's Top News
Top Life News

Siberian oil pipeline to go to China first: Putin




China to expand relations with Canada: Hu




ADB: China economy to grow 9.2% this year




Showbiz opens up to foreign investors




Wu : Co-operation crucial for peace




Bush suffers in polls post-Katrina