EU backs textile deal, Denmark slams quotas
(Reuters)
Updated: 2005-09-08 06:50
BRUSSELS/PARIS, Sept 7 - EU states backed a plan on Wednesday to free up blocked Chinese textile imports but Denmark slammed the deal as out of touch with modern trade, a sign of how deep divisions remain over Europe's response to Asian competition. Reuters reported.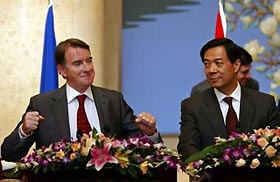 EU Trade Commissioner Peter Mandelson (L) and China's Commerce Minister Bo Xilai pause during their joint press conference, after signing a China-EU textile agreement in Beijing September 5, 2005. [Reuters]

European Trade Commissioner Peter Mandelson -- who has been buffeted by the rival interests of Europe's textile producers and retailers -- praised the "solidarity" of member states and said he expected the goods would begin to be released next week.

Tens of millions of Chinese-made trousers, bras, jumpers and other clothes have been prevented from entering the EU after import quotas began filling up, just weeks after they were announced in June.

The new quotas were an attempt to slow huge growth of Chinese textile imports to Europe this year, after a previous quota system expired on January 1.

Under an agreement this week between Brussels and Beijing, the European Union and China will share the impact of allowing the blocked goods into the region, with the Chinese government accepting lower export quotas for 2006.

That was a key demand of European countries with their own textile industries, like France, Italy and Spain.

Countries with strong retail sectors like Germany and the Nordics had pressed Brussels to release the goods.

The prime minister of Denmark -- which was among the countries pushing for the quotas to be lifted -- on Wednesday criticised the revised China deal.





| | |
| --- | --- |
| | |
| Students busy drying books in Anhui | |

| | |
| --- | --- |
| | |
| Relief materials from China heading to the US | |

| | |
| --- | --- |
| | |
| Gas burning kills 17 miners in Shanxi | |
Today's Top News
Top China News

US$3.7 billion loan to help Taiwan-funded firms




EU backs textile deal, Denmark slams quotas




Rumsfeld to make first visit to China




First batch of Aid for Katrina victims on its way




Police, soldiers work to empty New Orleans




Strong progress in IPR protection campaign