Blair senses sea change in China visit
(Agencies)
Updated: 2005-09-07 11:28
British Prime Minister Tony Blair said he sensed a sea change in the way China is engaging with the world, praising its openness and frankness in his lengthy talks with Chinese counterpart Premier Wen Jiabao.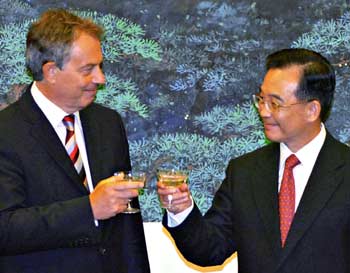 British Prime Minister Tony Blair (L) and Chinese Premier Wen Jiabao toast after the UK-China Summit at the Great Hall of the People in Beijing September 6, 2005. [Reuters]
Blair held eight hours of discussions with Wen over the course of his two-day stay and said he noticed subtle differences from previous visits.
"There was a genuine sense of engagement. I don't want to put that any higher than it deserves but it's there," he said on Tuesday.
"The one thing that I found that was, I would say, different from the very first visit I would have had to China was that there was no desire to escape this topic (democracy)," according to an AFP report.
Blair initially met Wen Monday at the annual EU-China summit which he attended as part of Britain's turn at the six-month rotating presidency of the 25-nation bloc, and then Tuesday on the bilateral leg of the trip.
Trade and investment took up most of their time but they also touched on other subjects like human rights, China's market economy status, Taiwan and Hong Kong, Blair's spokesman said.
"I think it is fair to call our meetings in-depth, practical, frank and productive ones," said Wen.
"I do believe that this is a very important visit and we can exchange views on our bilateral relations and major international and regional issues of common concern."
Blair praised the approach China had taken over the two days, which included a settlement of a Sino-EU trade row that has left 80 million Chinese-made garments piled up in European ports.

| | |
| --- | --- |
| | |
| Relief materials from China heading to the US | |

| | |
| --- | --- |
| | |
| Gas burning kills 17 miners in Shanxi | |

| | |
| --- | --- |
| | |
| Blair tries football skills among Chinese kids | |
Today's Top News
Top China News

Growing energy moves by China make U.S. angry




Official: Shenzhou VI to be launched soon




New Orleans after Katrina: Back to Stone Age




Blair senses sea change in China visit




Iraqi Leader: Saddam confessed to crimes




Airbus, banking deals cement China-EU ties