Growing energy moves by China anger US
(chinadaily.com.cn/agencies)
Updated: 2005-09-07 10:58
China will be increasingly in conflict with the United States if it continues to pursue good relations and energy deals with countries U.S. believes ¡°problematic¡±, a senior Bush administration official said Tuesday.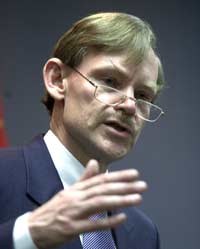 U.S. Deputy Secretary of State Robert Zoellick [newsphoto/file]

However, Beijing says it has pursued an independent foreign policy, guided by the principle of mutual respect for sovereignty, mutual benefit, non-interference into each other¡¯s internal affairs and peaceful coexistence, which is earning it growing friends.

U.S. Deputy Secretary of State Robert Zoellick told reporters in Washington that he was worried about China¡¯s increasing energy ventures in cooperation with countries such as Iran, Sudan and Venezuela, which Washington does not like.

Zoellick said that it was unlikely that China could guarantee its energy security through contracts with countries which Washington considers troublesome "because you can't lock up energy resources" in a global marketplace, the Reuters quoted him as saying.

Zoellick, in charge of a new U.S. strategic dialogue with Beijing, discussed key issues facing the two countries ahead of Chinese President Hu Jintao's attendance at the United Nations summit in New York next week.

Hu had been due to make his first official visit to the White House on Wednesday but it was canceled so President George W. Bush could focus on the Hurricane Katrina aftermath.

The two are still expected to meet on the fringes of the U.N. summit. Cooperation on trying to end the North Korean and Iranian nuclear programs will be on the U.S. agenda.

Zoellick launched the strategic dialogue on a trip to Beijing in August amid rising U.S. concern over China's growing economic and military strength. He acknowledged "there are questions that are being asked not only in the U.S. but other parts of Asia and Europe about how China will use this growing power," according to the report filed by Reuters.





| | |
| --- | --- |
| | |
| Advertising gimmicks | |

| | |
| --- | --- |
| | |
| Air China jetliner painted for Olympic Games unveiled in Beijing | |

| | |
| --- | --- |
| | |
| Chinese tourists watch tide of Qiantang River | |
Today's Top News
Top China News

Siberian oil pipeline to go to China first: Putin




N. Korea nuclear talks to resume Sept 13




President Hu due in Canada for visit




Vice-premier: Economy to grow 9% this year




China, US smash Viagra counterfeiting case




US$3.7b loan to help Taiwan-funded firms