Impeachment charges against Arroyo dropped
(AP)
Updated: 2005-09-07 09:23

Philippine legislators on Tuesday ended the impeachment case against President Gloria Macapagal Arroyo, leaving the streets as the last resort for the frustrated opposition, AP reported.

Despite suggestions that mass protests loomed, initial public reaction was muted, as it has been throughout the political crisis that erupted in June over allegations that Arroyo rigged last year's election.

While 10,000 people turned out for an anti-Arroyo protest led by former President Corazon Aquino, that was a tiny fraction of the "people power" revolts that ousted two leaders in the last two decades, and the protest quickly lost steam, with participants dispersing at dusk.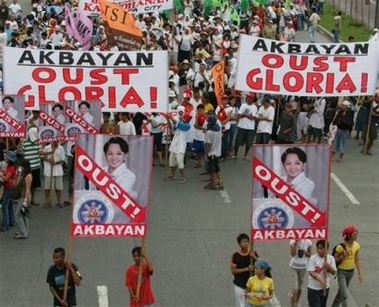 Protesters march towards the Philippine Congress at suburban Quezon city, north of Manila, Tuesday, Sept. 6, 2005 to call for the ouster of Philippine President Gloria Macapagal Arroyo as legislators debate the impeachment complaints against her. [AP]

The death in December of movie star Fernando Poe Jr., the runner-up to Arroyo in May 2004, has left the opposition without a popular figure to rally around.

Arroyo was ecstatic over the House of Representatives' decision, thanking people for not supporting calls to oust her by force.

"The Filipino people mark a glorious day in history, when instead of forcing a president out of office through `people power,' they chose to keep a president through voting in the halls of constitutional democracy," she said in a statement.

She also spoke of reconciliation, which did not seem likely anytime soon. The opposition said Arroyo's allies used their overwhelming dominance in the House to keep the case from getting a fair hearing.

The decision could prolong the debilitating crisis that has gripped the poor Southeast Asian nation and tainted the image of the U.S.-trained economist, who has tried to revive the flagging economy during 4 1/2 years in office.





| | |
| --- | --- |
| | |
| Rescue continues in New Orleans | |

| | |
| --- | --- |
| | |
| Egyptian presidential election campaigns conclude | |

| | |
| --- | --- |
| | |
| Bush orders more troops to secure New Orleans | |
Today's Top News
Top World News

Airbus, banking deals cement China-EU ties




Official: Shenzhou VI to be launched soon




StanChart takes 19.9% stake in Bohai Bank




New Orleans after Katrina: Back to Stone Age




Iraqi Leader: Saddam confessed to crimes




Legislation key to epidemic control