Singapore picks Boeing F-15 over Rafale of France
(AFP)
Updated: 2005-09-07 09:11
The US-made Boeing F-15 Eagle has defeated the French-built Rafale in a dogfight for a billion-dollar fighter contract in Singapore, dealing a blow to European interests in Asia's booming arms market, AFP reported.
The French defense ministry has expressed "regret" following Singapore's announcement late Tuesday that it was in talks with Boeing for its new generation of fighters, a decision closely watched by other buyers.
"It is a sovereign decision of the Singaporean state. France respects it. Even if we regret it, this decision will not detract from the quality of our bilateral relations," the ministry said in a statement.
"In a hard-driving international competition involving several aircraft, the Rafale was one of the two finalists," the statement said, adding that "the current weakness of the dollar however seemed to have been a determining factor for our competition."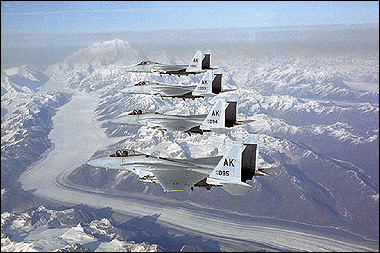 US F-15 Eagle warplanes fly in an undisclosed location.[AFP/file]

The Rafale and F-15 were shortlisted after the Eurofighter Typhoon was knocked out of the running for new fighters to replace a squadron of aging A4SU Super Skyhawks, upgrades of US-made aircraft first bought in the 1970s.

Singapore is expected to order about 20 F-15s for a total of some one billion dollars (800 million euros), industry sources said.

A fighter squadron typically has 20-24 aircraft.

A terse Singapore Ministry of Defence statement Tuesday said it was "in the process of seeking final clarifications and contract negotiation with Boeing" for the fighter deal.

While Singapore stopped short of declaring a final agreement, military aviation sources said the wording of the announcement on what is called the Next Fighter Replacement Programme was a mere formality.

The wealthy city-state's choice of fighter was keenly awaited in the world arms industry because Singapore is regarded as a picky buyer whose rigorous selection process influences other countries' decisions.

It was a blow to French manufacturer Dassault Aviation, which had been eagerly looking for a foreign buyer for the Rafale.

Singapore also operates F-16 Fighting Falcons and F-5 Tigers as part of Southeast Asia's most modern military arsenal.

Part of Singapore's air force is stationed in friendly countries like the United States, France and Australia because it does not have enough air space for training.

Robert Karniol, Asia-Pacific editor of Jane's Defence Weekly, said he was "a bit surprised" by the announcement, saying the Rafale would have had "longer legs" as the new-generation aircraft for Singapore.

"I don't see the F-15 twenty years from now being particularly effective in that environment," he said, adding that Singapore could still opt for another type of fighter in "phase two" of its long-term fighter acquisition program.

The Singapore statement came two weeks after the US Defense Department notified Congress of the possible sale to Singapore of advanced weapons, logistics and training as part of the proposed F-15 fighter sale.

They include supersonic air-to-air missiles and satellite-guided bombs.

The US Defense Security and Cooperation Agency said the proposed sale of weapons and logistics for the F-15 would be worth 741 million dollars if all options were exercised.

Singapore's defence spending for the current financial year of 9.26 billion Singapore dollars (5.8 billion US) accounts for 31.2 percent of the national budget, one of the highest in Asia.

France, which hosts a squadron of Singaporean Skyhawks at a training facility, had lobbied vigorously for the Rafale but Singapore is a close US ally and not even President Jacques Chirac's personal intervention was able to swing the deal.

The Rafale is a multi-role combat aircraft, capable of performing a wide range of missions day or night in all-weather conditions. For its part Boeing has pointed to the F-15's performance in actual combat as one of its main advantages.




| | |
| --- | --- |
| | |
| Rescue continues in New Orleans | |

| | |
| --- | --- |
| | |
| Egyptian presidential election campaigns conclude | |

| | |
| --- | --- |
| | |
| Bush orders more troops to secure New Orleans | |
Today's Top News
Top World News

Airbus, banking deals cement China-EU ties




Official: Shenzhou VI to be launched soon




StanChart takes 19.9% stake in Bohai Bank




New Orleans after Katrina: Back to Stone Age




Iraqi Leader: Saddam confessed to crimes




Legislation key to epidemic control