Boy survives plane crash in Indonesia
(AP)
Updated: 2005-09-07 08:37
A 5-year-old boy given up for dead in a plane crash in Indonesia that killed 148 people has been found in a hospital and reunited with his parents.
Investigators sifted Tuesday through the charred wreckage of the Mandala Airlines' Boeing 737-200, trying to determine why it slammed onto a crowded street in Indonesia's third-largest city, creating a path of destruction as it plowed into houses, cars, and pedestrians.
The dead in Monday's crash included 101 passengers and crew and 47 people on the ground. Sixteen people aboard the flight survived, including 5-year-old Pento Panjaitan, who had been traveling to Jakarta with his father.
Both were injured and taken to different hospitals, said Rini, a nurse at the Santa Elizabeth Hospital. His identity ! and the fact that he had been on the plane ! didn't become clear until late Monday, when the boy "started crying and looking for his dad," the nurse said.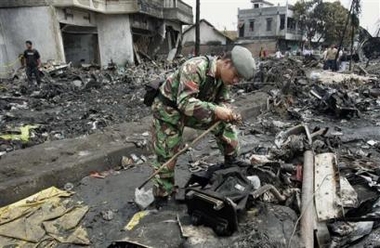 An Indonesian soldier searches the wreckage of Mandala Airlines flight A330 which crashed moments after taking off from Medan, Indonesia enroute to Jakarta Tuesday Sept. 6, 2005 in Medan.[AP]

Others were not so lucky. Hundreds of weeping family members gathered Tuesday at the Adam Malik Hospital morgue, looking for loved ones among a long row of charred bodies. Some women collapsed as they lifted the plastic yellow sheets in search of clues ! a piece of clothing, jewelry, a familiar pair of shoes.

Remains not identified by early Wednesday will be buried in a mass grave next to another for victims of a Garuda Indonesia plane crash that killed more than 200 in 1997, said Dr. Suprato, the assistant director of the Adam Malik Hospital in Medan, who was helping with recovery efforts.

By late Tuesday, 40 corpses ! most burned beyond recognition ! had yet to be claimed.

Togi Simaranta, 35, didn't know what his cousin was wearing, but after more than 24 hours of searching still was not ready to give up.

"My cousin came to Medan with his wife for a holiday, and they were heading home," Simaranta said, appearing weak and drained. "I don't even know what clothes they had on. But I want to keep looking, I have to, until tomorrow's deadline."

Transport Minister Hatta Rajasa said it would be several weeks before the cause of the crash was known, but investigators were looking at what happened during takeoff. Both flight data recorders have been found, officials said, and will be sent abroad for analysis.

The U.S. National Transportation Safety Board sent a three-member team to assist in the investigation, U.S. officials said.

Survivors said the plane shook violently after lifting off the runway and veered left before crashing to the ground. Some described a loud bang while the aircraft was still in flight, but officials were quick to rule out terrorism ! an ever present fear in the world's most populous Muslim nation and home to the al-Qaida-linked Jemaah Islamiyah militant group.

Soon after dawn Tuesday, investigators arrived at the massive crash site yards from the runway.

The area was taped off, but police were unable to keep people from the scene. Hundreds milled about, covering their noses with handkerchiefs as they pointed at the plane's tail, a piece of the wing and twisted knots of blackened metal.

Setio Raharjo, head of the National Transportation Safety Board and the lead investigator, said the curious onlookers could be hampering efforts to get to the bottom of the crash.

President Susilo Bambang Yudhoyono toured the crash site on Sumatra island after attending the funeral of the north Sumatra governor, one of the victims.

Fritina, 32, was clutching her 18-month-old son when the plane lost control. The toddler survived, but her oldest son did not.

"She's not talking much," said her father, Haji Muhammad Ersani, 62, after visiting his daughter and grandson in the hospital. "She's in shock. She only remembers that when the plane went down and split apart, she immediately got out and watched as her eldest son was on fire."




| | |
| --- | --- |
| | |
| Rescue continues in New Orleans | |

| | |
| --- | --- |
| | |
| Egyptian presidential election campaigns conclude | |

| | |
| --- | --- |
| | |
| Bush orders more troops to secure New Orleans | |
Today's Top News
Top World News

Plane, banking deals strengthen relations




StanChart takes 19.9% stake in Bohai Bank




Water receding noticeably in New Orleans




Iraqi Leader: Saddam confessed to crimes




Legislation key to epidemic control




Relaxed Blair lacks footballing flair