Iraqi Leader: Saddam confessed to crimes
(AP)
Updated: 2005-09-07 07:09
Iraq's president said Tuesday that Saddam Hussein had confessed to killings and other "crimes" committed during his rule, AP reported.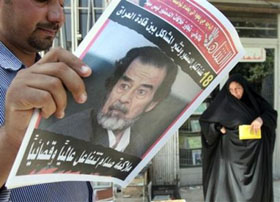 A woman stands next to a man reading Iraqi newspapers bearing a photo of Saddam Hussein on the front page, in Baghdad, Iraq, Monday, Sept. 5, 2005 with the headline referring to the impending trial.[AP]

President Jalal Talabani told Iraqi television that he had been informed by an investigating judge that "he was able to extract confessions from Saddam's mouth" about crimes "such as executions" which the ousted leader had personally ordered.

Talabani said that some of the confessions involved cases under investigation but he did not specify them. Saddam faces his first trial Oct. 19 for his alleged role in the massacre of Shiites in Dujail, a town north of Baghdad in 1982.

Saddam could face the death penalty if convicted in the Dujail case.

The Iraq Special Tribunal is also investigating Saddam's alleged role in other atrocities, including the 1988 gassing of thousands of Kurdish civilians in Halabja and the 1991 suppression of the Shiite rebellion in the south.

Iraqi authorities plan to try those cases separately.

Saddam met with his lawyer for the first time since the trial date was announced, said Abdel Haq Alani, a legal consultant to Saddam's eldest daughter, Raghad, who lives in Jordan.

"The meeting took place on Monday, but I'm not at liberty to disclose the contents of the talks," Alani said earlier in the day, before Talabani's statements.





| | |
| --- | --- |
| | |
| Rescue continues in New Orleans | |

| | |
| --- | --- |
| | |
| Egyptian presidential election campaigns conclude | |

| | |
| --- | --- |
| | |
| Bush orders more troops to secure New Orleans | |
Today's Top News
Top World News

Airbus, banking deals cement China-EU ties




Official: Shenzhou VI to be launch recently




StanChart takes 19.9% stake in Bohai Bank




Water receding noticeably in New Orleans




Legislation key to epidemic control




Relaxed Blair lacks footballing flair