Legislation key to epidemic control
By Liu Li (China Daily)
Updated: 2005-09-07 05:37
China should accelerate legislation concerning AIDS, vice-chairman of the China Health Law Society Wu Chongqi said yesterday at the ongoing 22nd Congress on the Law of the World.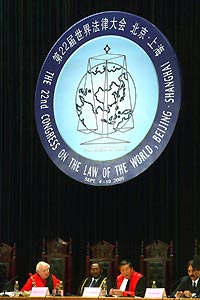 Lord Woolf (first left), lord chief justice of England and Wales; Mohammed Lawal Uwais (second left), president of the Supreme Court of Nigeria; Liu Daqun (third left), a judge from China and Iftikhar Muhammad Chaudhry, chief justice of the Supreme Court of Pakistan, participate in a demonstration trial session yesterday in Beijing. [CD]

"Legislation is key to the prevention and cure of AIDS in China," he told a panel session.

Meanwhile, local officials also appealed yesterday to update laws in the field of public health, especially during emergencies.

Wu stressed that although AIDS legislation is a complicated issue, "we must balance personal rights and public health care."

"I believe that legislation should free AIDS patients and HIV carriers from prejudice," he said.

"If the laws only supervise the patients but do not protect them, they will harm our efforts to prevent and cure this infectious disease."

A draft version of the national regulation regarding the prevention and cure of AIDS has been completed by the State Council and is now in the public comment stage.

Various levels of governments in China have drafted more than 300 laws and regulations on the prevention and cure of the disease, Wu said.

"Having nearly one-fifth of the world's population, China has shouldered a huge responsibility to prevent and stop the spread of AIDS," he said.





| | |
| --- | --- |
| | |
| Relief materials from China heading to the US | |

| | |
| --- | --- |
| | |
| Gas burning kills 17 miners in Shanxi | |

| | |
| --- | --- |
| | |
| Blair tries football skills among Chinese kids | |
Today's Top News
Top China News

Growing energy moves by China make U.S. angry




Official: Shenzhou VI to be launched soon




New Orleans after Katrina: Back to Stone Age




Blair senses sea change in China visit




Iraqi Leader: Saddam confessed to crimes




Airbus, banking deals cement China-EU ties