Flood waters recede in New Orleans
(AP)
Updated: 2005-09-06 19:17
The floodwaters that caused so much misery and death in New Orleans were being pumped back into Lake Pontchartrain as rescue crews from as far away as California trolled the evacuated city for stragglers and authorities braced for what the receding deluge would reveal.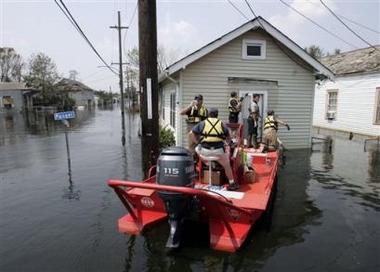 Rescuers go house to house by boat to plead with residents to leave their homes in New Orleans, Monday, Sept. 5, 2005. [AP]
The U.S. Army Corps of Engineers began pumping water out the flooded city Monday after closing a major gap in the levee that burst during Hurricane Katrina, flooding 80 percent of the bowl-shaped city.
Efforts to evacuate holdouts were stepping up Monday, with boat rescue crews from around the country searching for people to rescue.
"In some cases, it's real easy. They're sitting on the porch with their bags packed," said Joe Youdell of the Kentucky Air National Guard. "But some don't want to leave and we can't force them."
Draining the flood waters is likely going to take weeks, leaving behind a layer of toxic sludge ! and bodies. The mayor said it wouldn't be "unreasonable" to have the city's death toll reach 10,000.
In neighboring St. Bernard Parish, officials expressed frustration that federal aid, slow to reach New Orleans, was even slower to get to outlying areas.
"This is Day 8, guys. Everything was diverted first to New Orleans, we understand that. But do you realize we got 18 to 20 feet of water from the storm, and we've still got 7 to 8 feet of water?" said Ron Silva, a district fire chief. "If you had dropped a bomb on this place, it couldn't be any worse than this."
In addition to help from other Louisiana and Alabama departments, a Canadian task force of firefighters and police arrived four days after the storm to help, St. Bernard Fire Chief Thomas Stone said.
"If you can get a Canadian team here in four days, U.S. teams should be here faster than that," Stone said. Pointing to two large oil refineries, "When they're paying $5 to $6 a gallon for gas, they're going to realize what this place means to America."
The frustrations also were being felt along the Mississippi coast, where people who have chosen to stay or are stuck in demolished neighborhoods scavenge for basics each day.
Some say they will stay to rebuild their communities, others say they would leave if they could get a ride or a few gallons of gasoline, but all agree that ! with no water or power available, probably for months ! they need more help from the government just to survive.
"I have been all over the world. I've been in a lot of Third World countries where people were better off than the people here are right now," retired Air Force Capt. William Bissell said Monday. "We've got 28 miles of coastline here that's absolutely destroyed, and the federal government, they're not here."
The scope of the misery inflicted by Katrina was evident as President Bush visited Baton Rouge and Poplarville, Miss., his second inspection tour by ground.
"Mississippi is a part of the future of this country and part of that future is to help you get back up on your feet," Bush told 200 local officials.
While in Louisiana, Bush tried to repair tattered relations with the state's Democrat governor, Kathleen Blanco, while also praising relief workers. Blanco played down any tension.
"We'd like to stop the voices out there trying to create a divide. There is no divide," she said. "Every leader in this nation wants to see this problem solved."
Meanwhile, Bush's father, together with former President Clinton visited evacuees in the Astrodome complex in Houston, eliciting smiles, hugs and requests for autographs from some of the 23,600 inside.
The two ex-presidents, who partnered on a fund-raising effort for victims of last year's Asian tsunami, announced the creation of the Bush-Clinton Katrina Fund.
"We're most anxious to roll up our sleeves and get to work," said former President George H.W. Bush. "It will take all of us working together to accomplish our goal. This job is too big for any one group."
U.S. Health and Human Services Secretary Mike Leavitt declared a public health emergency for Texas, saying it would speed up federal assistance to help almost 240,000 storm evacuees ! the most of any state.
Federal officials on Monday dubbed Arkansas' Little Rock Air Force Base the hub for all disaster-related overseas air shipments. The base is one of the few in the mid-South equipped to handle large cargo planes and is a seven-hour drive to New Orleans.
In New Orleans, Deputy Police Superintendent W.J. Riley estimated that fewer than 10,000 people were left in the city. Some simply did not want to leave their homes ! while others were hanging back to engage in criminal activities, such as looting.
New Orleans Mayor Ray Nagin said the city had the authority to force residents to evacuate but didn't say if it was taking that step. He did, however, detail one heavy-handed tactic: Water will no longer be handed out to people who refuse to leave.
The leader of troops patrolling New Orleans declared the city largely free of the lawlessness that plagued it in the days following the hurricane. And he angrily lashed out at suggestions that search-and-rescue operations were being stymied by random gunfire and lawlessness.
"Go on the streets of New Orleans ! it's secure," Army Lt. Gen. Russel Honore said to a reporter. "Have you been to New Orleans? Did anybody accost you?"
In neighboring Jefferson Parish, some of its 460,000 residents got a chance to briefly see their flooded homes, and to scoop up soaked wedding pictures and other cherished mementoes.
"I won't be getting inside today unless I get some scuba gear," said Jack Rabito, a 61-year-old bar owner whose one-story home had water lapping the gutters.
| | |
| --- | --- |
| | |
| Rescue continues in New Orleans | |

| | |
| --- | --- |
| | |
| Egyptian presidential election campaigns conclude | |

| | |
| --- | --- |
| | |
| Bush orders more troops to secure New Orleans | |
Today's Top News
Top World News

Gays live a difficult life under social bias




China, EU reach 'win-win' deal on textiles




Official: 'East Turkistan' main terror threat




Katrina death toll may be 10,000: mayor




At least 149 killed in Indonesian air crash




Standard Chartered to create China bank