Indonesia probes air crash as neighborhood mourns
(Reuters)
Updated: 2005-09-06 10:56
Weeping residents of Indonesia's third-biggest city picked through the charred rubble of their homes on Tuesday a day after a domestic airliner slammed into a local neighborhood, killing 149 people, Reuters said.
Police watching over the wreckage of Mandala Airlines flight RI 091 said its black box had been found late on Monday night and sent for analysis by investigators looking into the cause of the disaster.
The crash, just seconds after take-off from Medan city's Polonia airport on Sumatra island, killed 102 people aboard and 47 others in an inferno on the ground.
Dozens of soldiers combed the crash site for human remains at dawn and a strong smell of burning hung in the air. A Reuters reporter at the scene saw several body parts collected by troops.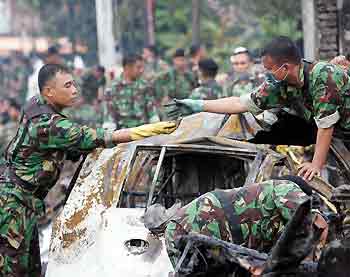 Indonesian soldiers recover human remains and fragments from a car which was destroyed when a plane crashed into a residential area in Medan September 6, 2005. [Reuters]

Miraculously, 15 passengers in the tail section of the Boeing 737-200, including a toddler under the age of two, survived the crash and were being treated at a nearby hospital.

"At first I heard a bang. Then I looked up (to the ceiling) and there were balls of fire and then my son and daughter-in-law came to get me," said Mariam, a 73-year-old grandmother, sitting in the blackened wreckage of her former home.

"We all ran from the back of the house."

Around her, at least a dozen destroyed homes could be seen. Officials have said some 20 homes were damaged by fire.

"We didn't hear any noise of a plane. All we heard was boom, boom and we just ran," said Mariam's daughter-in-law, Nurlaela.

The plane was carrying 112 passengers and five crew on a flight to the Indonesian capital, Jakarta.

Survivors said the plane started to shake heavily after take off, and failed to clear landing system instruments at the end of the runway.

The aircraft clipped a river bank, swerved right and then plowed into homes bordering one of the city's busiest roads and burst into flames.





| | |
| --- | --- |
| | |
| Rescue continues in New Orleans | |

| | |
| --- | --- |
| | |
| Egyptian presidential election campaigns conclude | |

| | |
| --- | --- |
| | |
| Bush orders more troops to secure New Orleans | |
Today's Top News
Top World News

China, EU reach 'win-win' agreement on textiles




"East Turkistan" main terrorist threat




Gays live a difficult life under social bias




Katrina death toll may be 10,000: mayor




At least 149 killed in Indonesian air crash




Blair: EU-China ties 'immensely important'